Gaming Spotlight 2023: Current Landscape & Its Challenges
Presented by DATA.AI + IDC | 2023
Mobile gaming continues to present the most significant opportunities in the industry. However, challenges arise due to frequent updates in privacy regulations, economic uncertainties, and intensifying competition. Consequently, user acquisition and revenue growth expectations are becoming harder to achieve.
The mobile gaming sector is witnessing a surge in new competitors. With mobile consumer spending expected to remain consistent with the previous year's figures in 2023, differentiating oneself in the market has never been more crucial. To maintain a competitive edge, keeping abreast of emerging trends is essential.
Simply following popular trends is no longer a guarantee for success. The mobile gaming audience is diverse and discerning, demanding innovation and quality. To ensure consistent daily active user (DAU) engagement and loyalty, it's imperative to stay updated with sought-after features and significant revenue-generating updates. However, without the appropriate partners, gaining insights into competitors can be both tedious and often misleading.
As acquisition costs climb, the importance of creative optimization is more pronounced than before. Gaining insights into competitors' effective conversion tactics and the core of their creative strategies can greatly inform and enhance your own approaches for growth. • The avenues for monetization have greatly expanded. However, to fully harness its potential, a holistic approach to monetization is necessary. From ad revenue and subscriptions to battle-passes, promotions, and more – there's a multitude to choose from. To effectively capitalize, it's crucial to remain updated on what resonates most within your game genre and with your user base, leaning on timely monetization insights.

Stabilizing Mobile Spending Amidst Privacy & Economic Challenges

Mobile gaming consumer expenditure is projected to hit $108 billion in 2023. Historically, such expenditures have been steadfast amidst economic downturns. However, challenges such as App Tracking Transparency (ATT) regulations and a clampdown on fingerprinting impede targeting high spenders, making In-App Purchases (IAP) monetization more challenging. Furthermore, with the increasing restrictions on adolescent mobile usage in China, there's an anticipated 2% drop year-over-year.
• Spending on home consoles is expected to see a 3% growth in 2023, reaching $43 billion, primarily due to increased spending on PS5 and Xbox Series X/S, despite a decline in Nintendo Switch expenditures.
• PC/Mac gaming expenses are likely to witness a 4% hike this year, soaring to $40 billion, primarily fueled by a surge in subscription-based game revenues.
• Conversely, handheld gaming expenditure is predicted to slump by 20%, amounting to just under $3 billion. This can be attributed to the diminishing appeal of the Nintendo Switch Lite, even though this decline is somewhat mitigated by the growing interest in the Steam Deck and similar handheld gaming devices.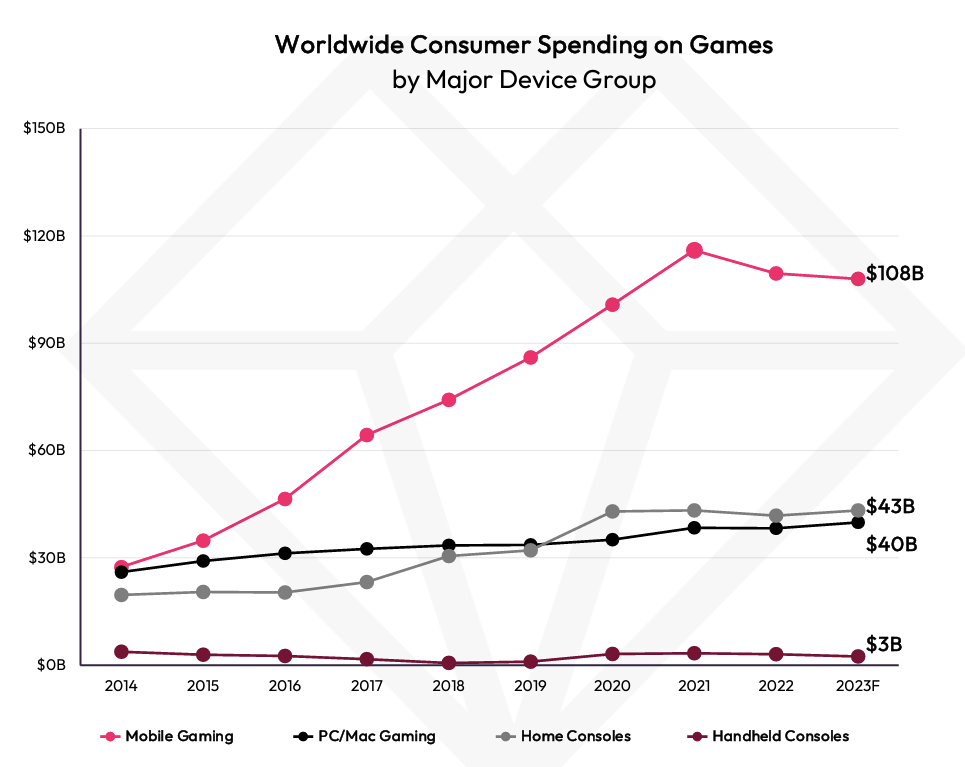 Revenue growth across Mobile, PC, and Mac is primarily driven by the APAC markets.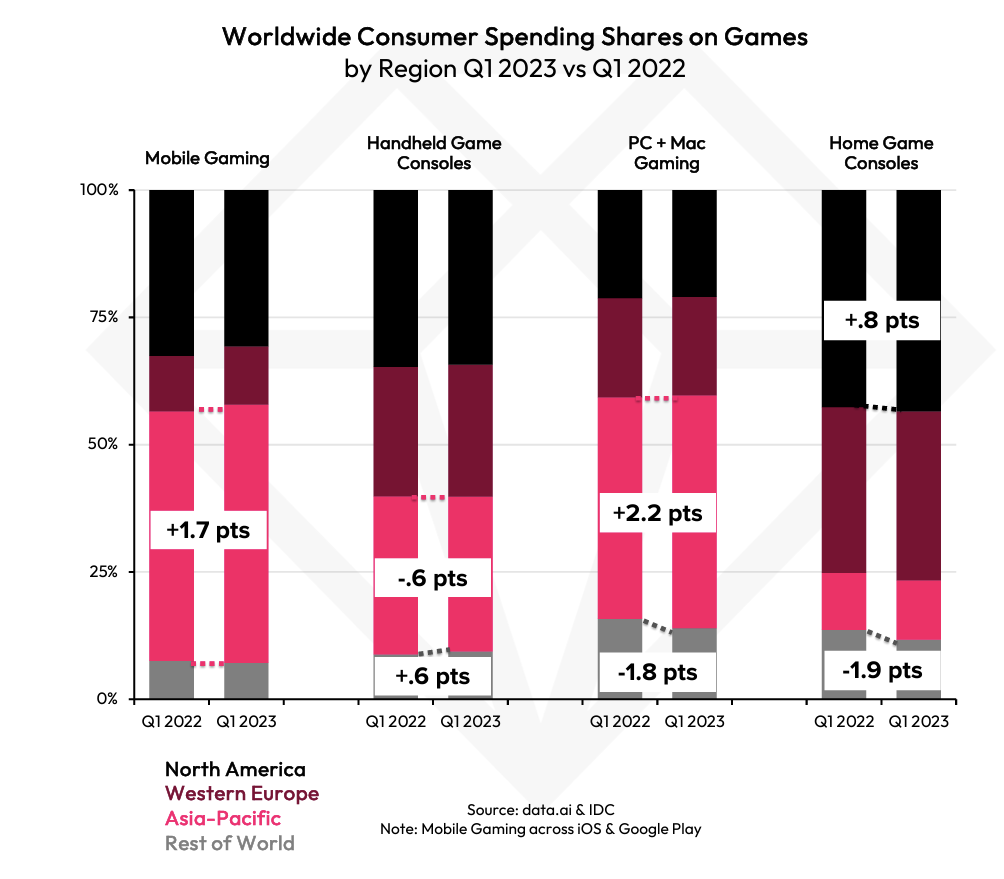 – South Korea recently spearheaded the increase in mobile spending market share within the APAC region. Meanwhile, in the Rest of the World category, Brazil, Turkey, and Mexico were at the forefront of growth.
• The Nintendo Switch Lite's popularity saw a notable dip in Japan, primarily due to the rise of the Nintendo Switch OLED version, which now dominates the total Switch market spending. Revenue from handheld console games witnessed a decrease across all regions.
• The market share for PC and Mac gaming experienced a year-on-year uptick, attributed in part to the surge in subscription-based game expenditures. This growth was further bolstered by weak Rest of World performances due to global conflicts and inflation.
• The shifts in home console market shares were influenced by the intensified spending on PS5 and Xbox Series X/S in North America. Conversely, suboptimal results in the Rest of the World were impacted by the Ukraine conflict, inflationary challenges in pivotal markets, and associated apprehensions.
During the first half, simulation games witnessed a spike in interest, while team battle RPGs increased their portion of spending.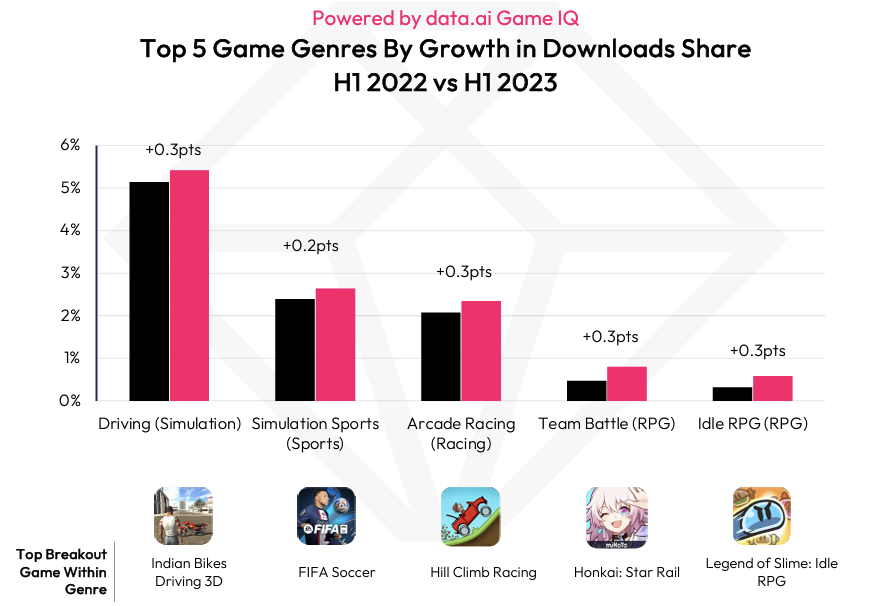 Changes in market share underscore the relative popularity of games in the present climate. A rise in market share doesn't always signal a definitive increase in downloads or consumer spending, especially if the overall market has shrunk. Instead, it reflects a game's expanded slice of the market pie. Such insights allow publishers to pinpoint areas of growth or dominance compared to their counterparts, which might be overlooked otherwise. These shifts shed light on possible collaboration opportunities or competitors gaining traction in the market.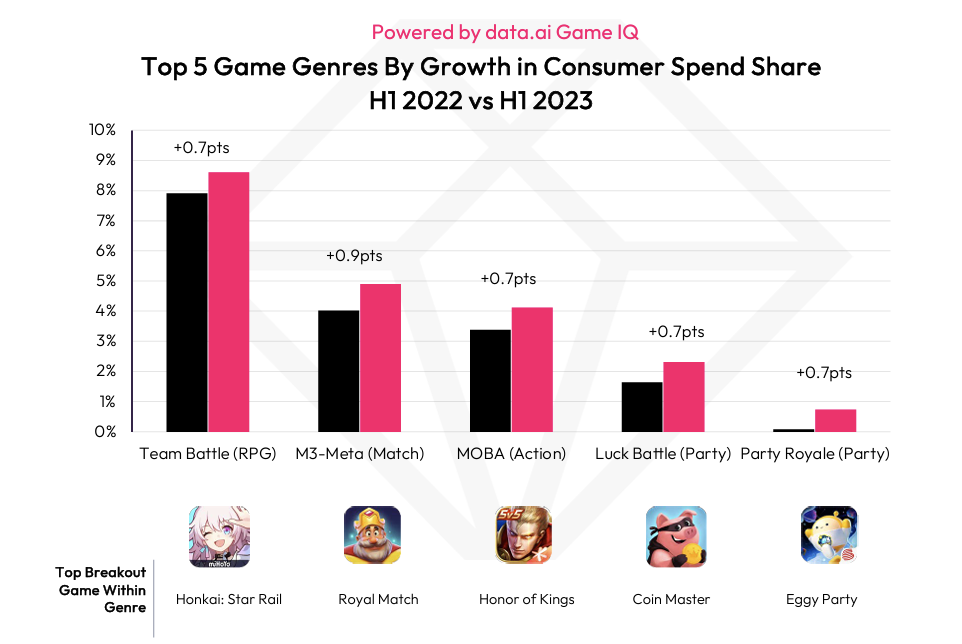 While core games continue to lead the pack, evolving preferences are paving the way for new genres to rise.

• Core games featuring real-time online multiplayer elements, especially PvP (player-versus-player) modes, consistently rank high in popularity. Battle Royale and Shooting Games maintain top positions across both mobile and PC/Mac platforms.
• For the Nintendo Switch Lite, premium first-party games priced at $60 predominantly ruled. In Q1 2023, the best-performing third-party title was Sega's Sonic Frontiers, ranking at #15. Classic hits made a resurgence, with Mario Kart 8 Deluxe, which initially launched in Q2 2017, re-emerging.
• Over on Steam, two of their in-house free-to-play titles, CS:GO and Dota 2, secured spots in the top five. Elden Ring and Dying Light 2: Stay Human saw robust sales in H1 2022. Meanwhile, Call Of Duty Modern Warfare 2 (2022) made a strong comeback on Steam in Q4 2022. Battle and season passes also generally yielded favorable results.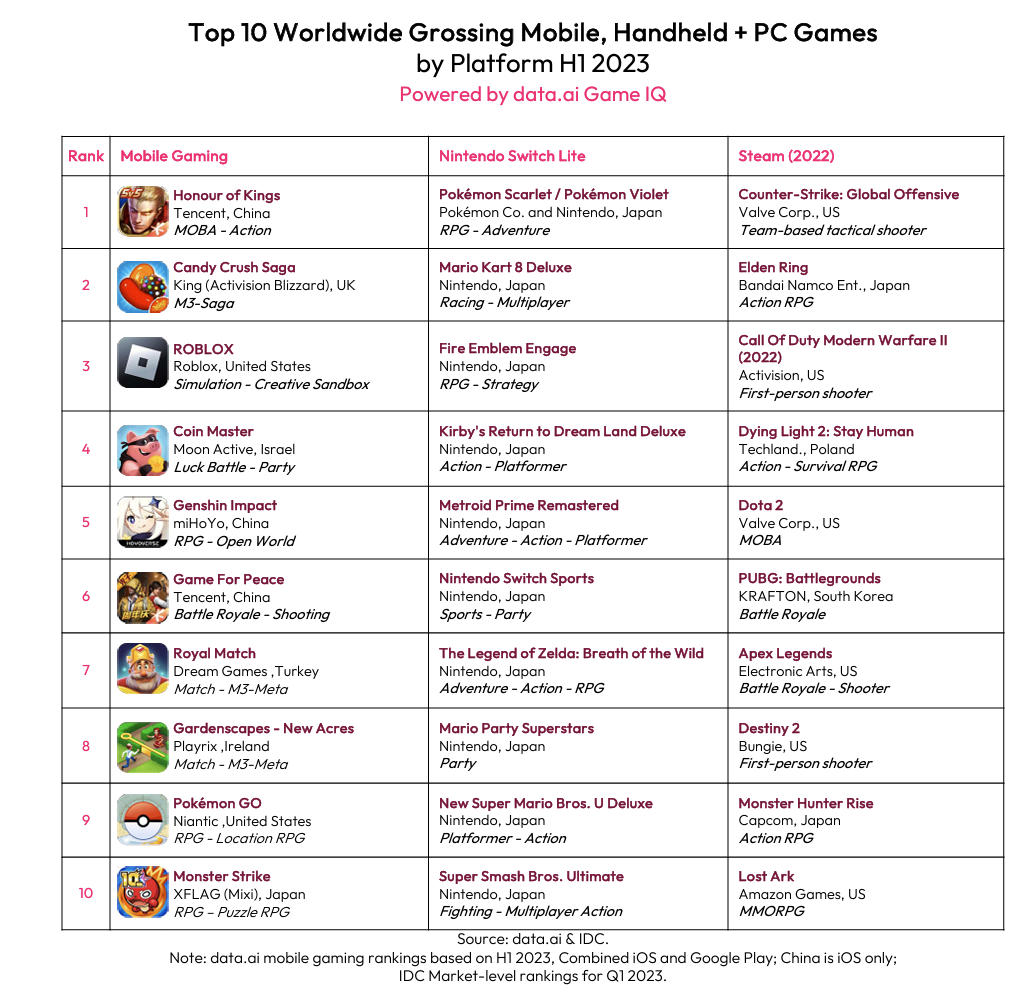 Gaining Momentum: Cloud Gaming Carves a Niche in the Mobile Arena.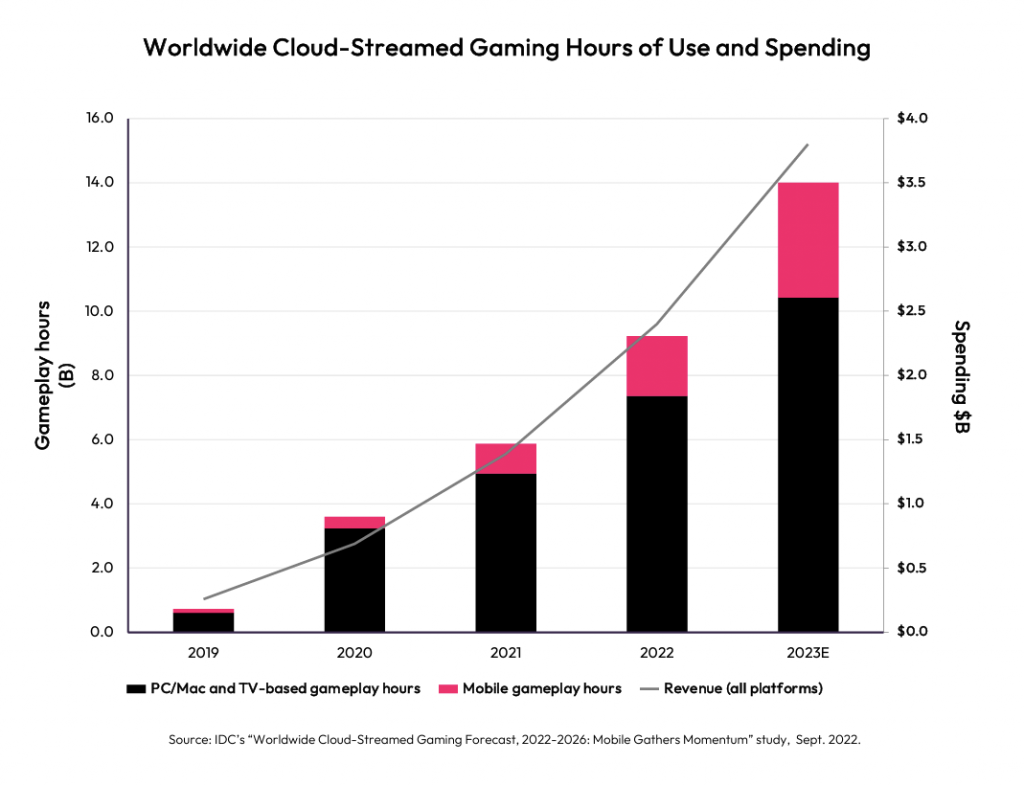 • This year, cloud-streamed gaming (CSG) on smartphones and tablets is projected to account for 26% of global playtime, a substantial rise from 16% in 2019.
• Globally, across all devices, consumers are expected to spend about $3.8 billion on CSG services in 2023. The revenue for this year is anticipated to surpass 2022's figures by over 50%.
• The global Monthly Active User (MAU) count for CSG should exceed 60 million this year. Nearly half of these users are likely to access CSG via mobile devices at least occasionally, a notable increase from 21% in 2019.
• Some prominent B2C service providers in this space include Amazon Luna, Blacknut, Boosteroid, Microsoft Game Pass Ultimate, NVIDIA GeForce Now, Sony PlayStation Plus Premium, offerings from various telecom companies, Tencent Pioneer and START, and Utomik Cloud.
Handheld Gaming Makes a Comeback, Yet Fragmentation Poses Challenges.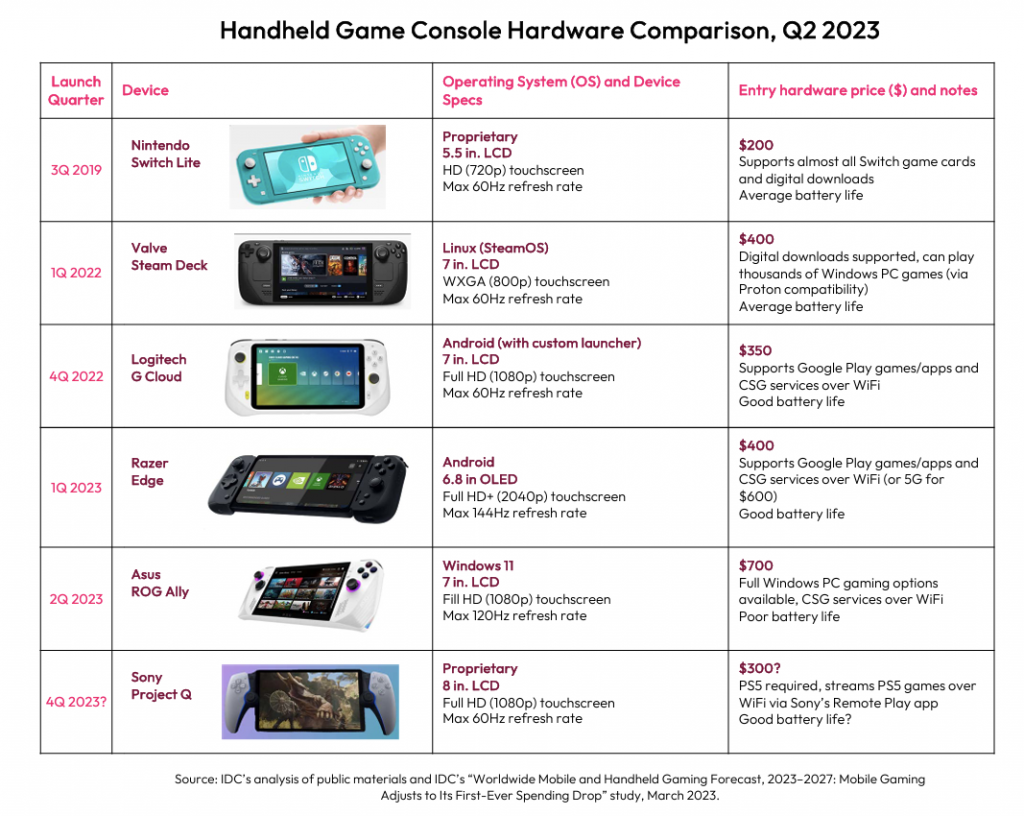 • Nintendo's Historical Supremacy: By Q1 2023, global shipments of the Switch Lite surpassed 21 million units. • Steam Deck's Entry: Roughly two million Steam Deck bundles seem to have been dispatched by Q1 2023.
• Regional Preferences and Accessibility: The Q1 2023 Consumer Pulse: Home and Entertainment survey by IDC highlighted that among only Switch Lite and Steam Deck users, 8 to 11% of those polled in the US, UK, and Germany owned a Steam Deck. In contrast, in Japan, a whopping 98% owned a Switch Lite (with a total sample size of 1,770 across these four countries).
• Variations in User Demographics: From IDC's Q3 2022 US Gamer Survey, it emerged that 55% of Switch Lite gamers were female, in comparison to only 27% of Steam Deck owners. Age-wise, 52% of Switch Lite gamers were under 35, while a significant 83% of Steam Deck gamers were aged 35 and above (with a sample size of 171 for Switch Lite and 12 for Steam Deck).
Pivotal Mobile Games of the First Half of 2023.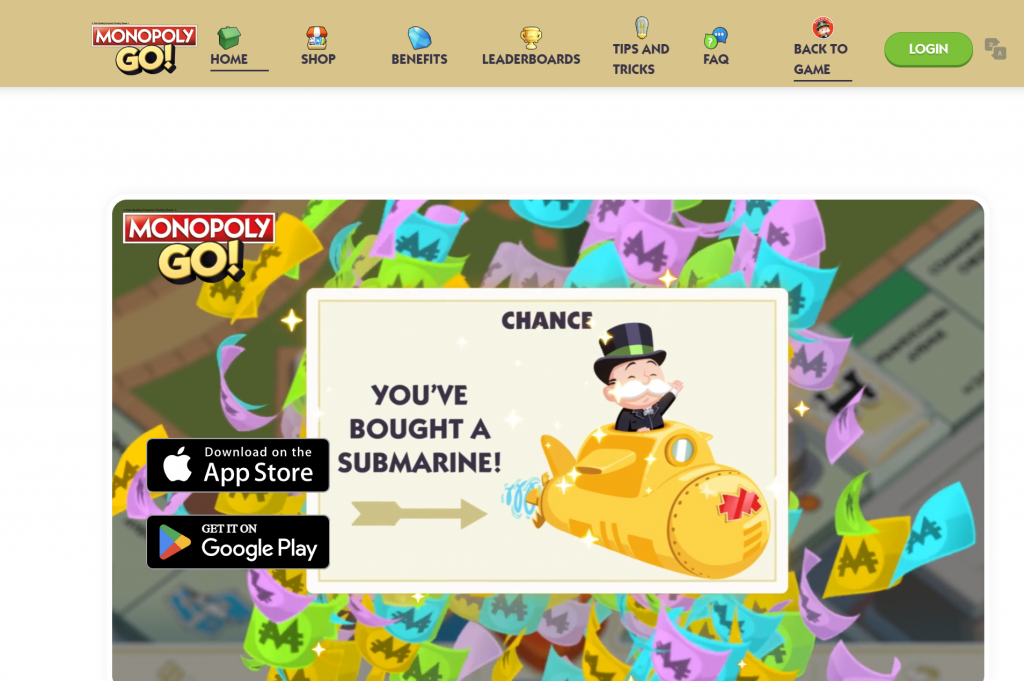 • Scopely's Monopoly GO has made an impressive mark with over 45 million downloads. Within the first 60 days post-launch, it topped the daily downloads chart 54 times in Italy and the UK, and 37 times across the US, Germany, and Australia.
• Operating on a free-to-play model with in-app purchases, the game has raked in a staggering $232 million in global consumer spending.
• Monopoly GO seamlessly integrates the timeless appeal of the traditional board game with contemporary social features, allowing gameplay with family and friends. Regular engagement tools like events, mini-games, and special offers enhance its appeal and player retention.
• Based on the analysis of select markets (Japan, South Korea, Canada, US, Germany, and the UK), the game sees a 10% higher likelihood of being chosen by female players and primarily attracts those in the 25 to 34 age bracket.
Paid User Acquisition: Match, Casino, and Tabletop Games Dominate in Purchased Downloads.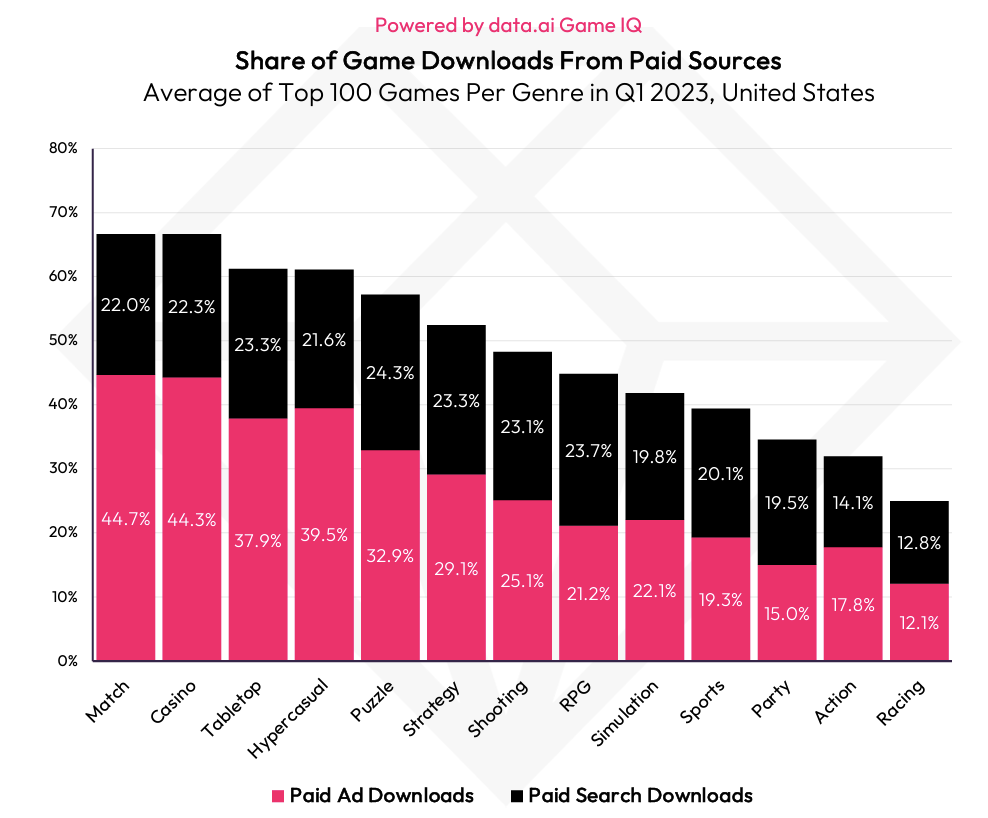 • Market standards for paid downloads differ based on game type and region.
• Certain genres are more inclined to lean on paid promotions than others. Generally, Paid App Install Ads (compared to Paid App Store Search) account for a more significant share of paid game downloads.
• The volume of paid downloads not only showcases the typical user acquisition activity for a specific subgenre and channel but also highlights instances when rivals are executing aggressive promotional campaigns.

Mobile User Acquisition Ad Styles: Action and Tabletop Games Dominate in Playable Ad Views.

• When it comes to user acquisition ad styles, Video Ads are predominant across many game subgenres, with the exceptions of RPG and Action games. Playable ads boast almost 80% of the Share of Voice (SOV) for Action game promoters, suggesting a high efficacy for this ad format in that category.
• Tabletop games stand out, securing the second-largest portion of Playable Ads at 16% of the total SOV. This implies these ads resonate well with the audience and often lead to game installations. The straightforward mechanics of tabletop games allow players to quickly grasp the game within an ad format, driving them to swiftly download the game—a clear indication of an effective ad.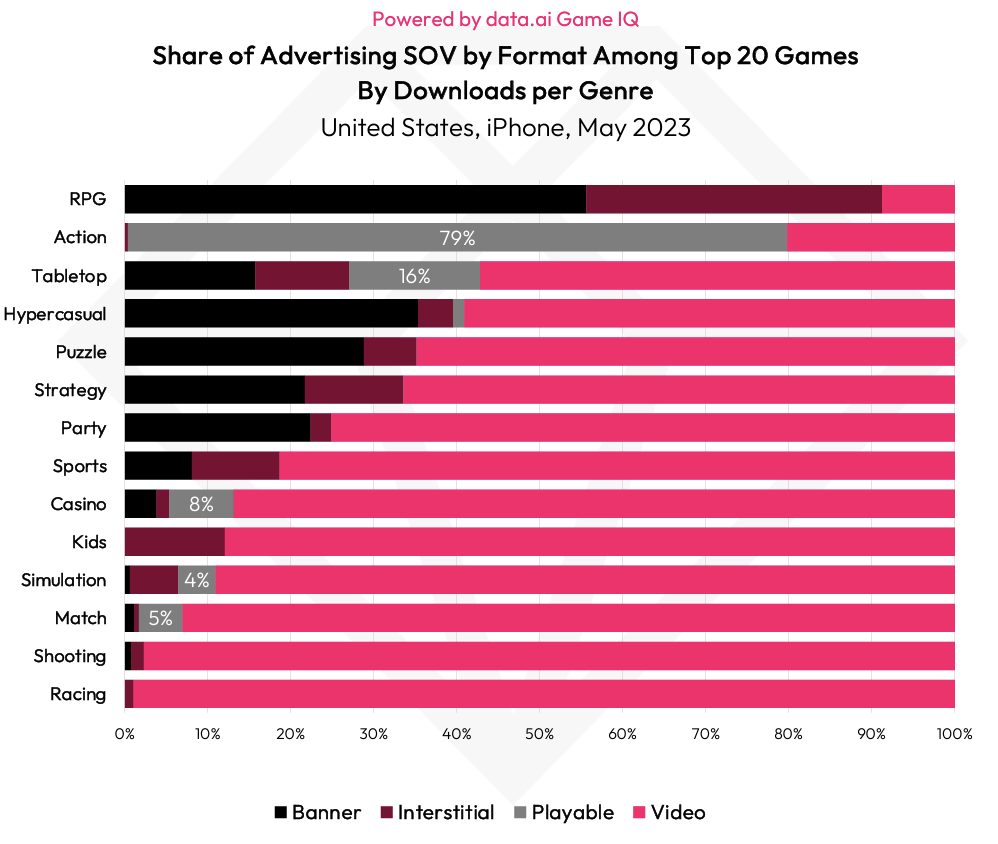 US Gamer Sentiment Towards In-Game Banner Ads Has Fallen

• In Q3 2022, there was a 24% disparity between U.S. gamers who expressed a dislike for banner/display ads and those who favored them.
• This difference in opinion expanded by 6.1% from Q3 2021 to Q3 2022.
• About 81% of participants confirmed encountering in-game banner/display ads in Q3 2022.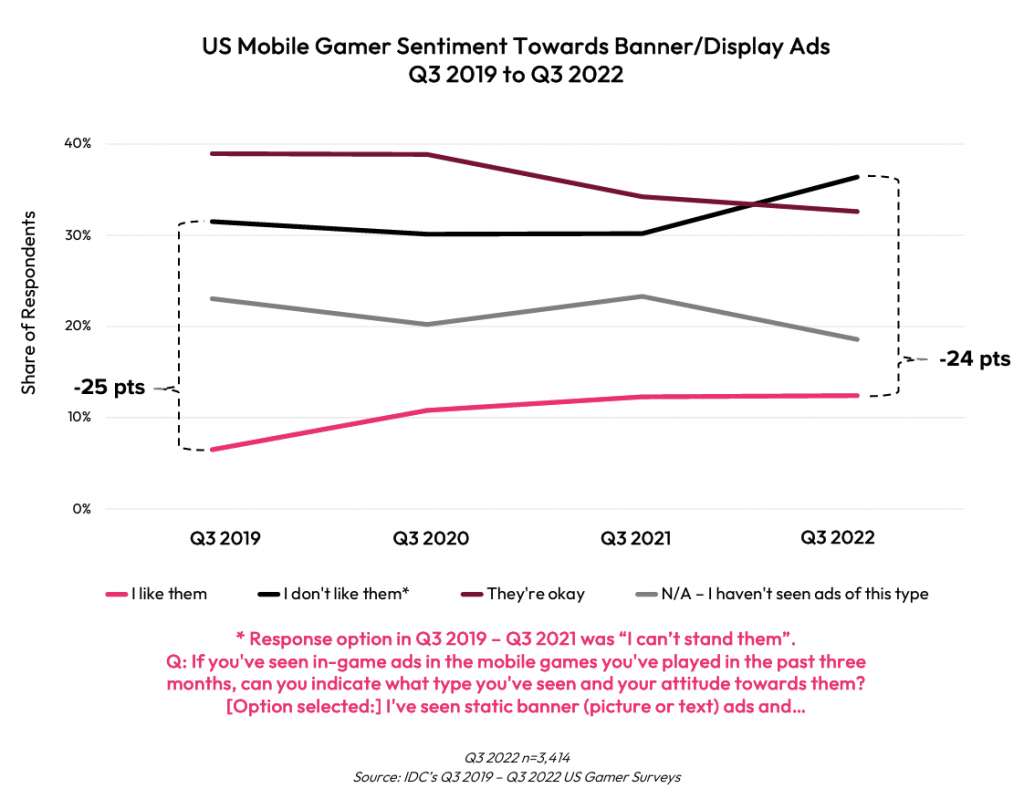 Video Ads Sentiment

• In Q3 2022, there was a 32% difference between U.S. gamers disliking video ads and those expressing approval; this divergence grew 8.5% from the previous year.
• Of all ad formats, video ads were most noticeable, with approximately 85% of mobile gamers noting they came across such an ad during Q3 2022.
• Video ads received the most negative feedback of all in-game ad formats; their widespread occurrence contributes to this sentiment.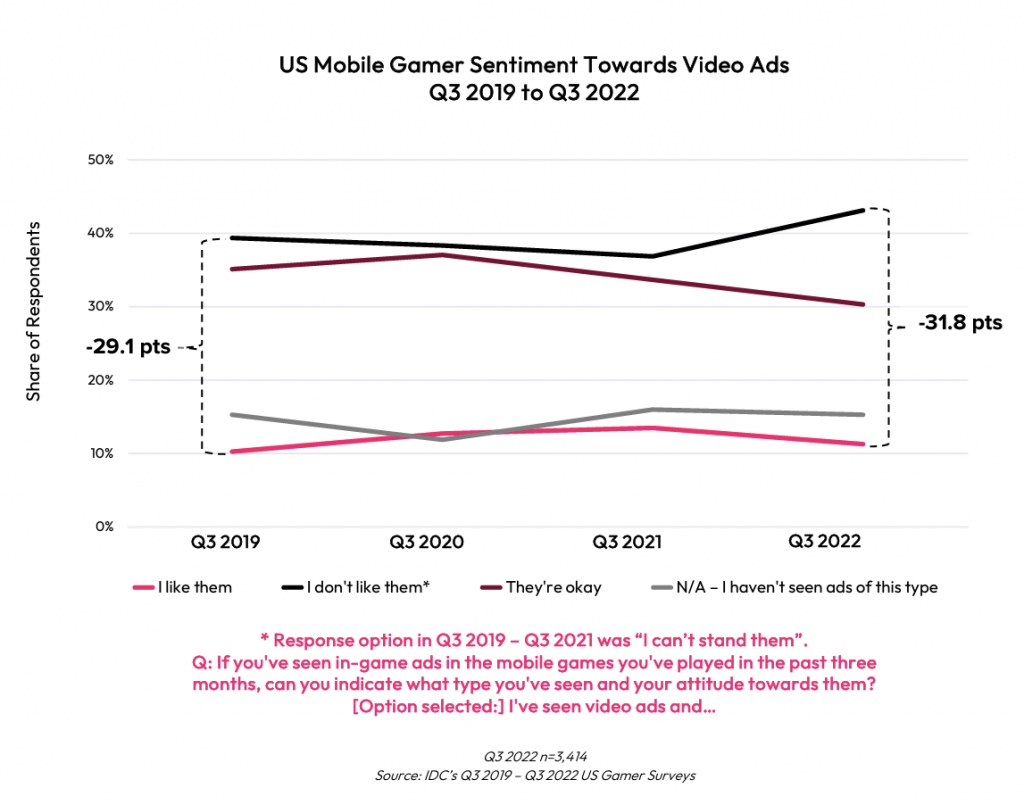 Key Takeaways
•Even with a slight decline in 2022, mobile remains the leading platform for digital gaming. It solidifies its status as the most favored gaming medium globally and is essential for an enriched cross-platform experience. This makes differentiation in the mobile space both imperative and challenging.
•The mobile platform has democratized gaming, accommodating every gamer's unique preference, from hypercasual to match-3 games to elaborate open-world adventures. This inclusivity positions mobile gaming as the avenue for the emergence of the "new gamer."
•The first half of 2023 saw a diverse range of successful games: a mobile adaptation of a classic board game, a highly awaited RPG expanding on the acclaim of Genshin Impact, a game that shook the match-3 market in under three years, and a renewed enthusiasm for a cross-platform franchise rooted in the world's most-watched sport. Key success factors include leveraging strong intellectual property, tapping into market trends, and harnessing live events.
•The overall perception of in-game mobile ads showed a decline in Q3 2022 compared to Q3 2021, based on US mobile gamer surveys. To capture new users, keeping abreast with high-performing ad platforms and designs is crucial. In the US, rewarded videos and interactive ads top the list of gamer preferences. Navigating creative trends requires a strategic partnership.
•Games monetizing mainly through ads may face challenges of market saturation. As the frequency of various ad types has increased in the US, their approval seems to decline. Hence, diversifying ad formats and styles is advisable.
•To counteract "ad fatigue"—which often results in costly user acquisition and reduced retention—it's recommended to tailor ads based on the demographic profile of a game's audience. With challenges such as Apple's ATT Framework and the anticipated Privacy Sandbox from Google in 2024, it's vital for advertisers to utilize context-specific market data for success.