Diving into the immersive realm of the gaming industry, the Gaming Report for Q2 2023 by Drakestar uncovers a wealth of strategic maneuvers and market shifts that have shaped the landscape. With an impressive disclosed deal value surging past the $6 billion mark, Q2 emerged as a quarter defined by robust M&A activities. The curtain rose with Savvy Gaming's strategic leap into the mobile gaming and publishing sphere through its acquisition of Scopely. SEGA, on the other hand, made waves by announcing its takeover of Rovio. In a rhythmic cadence of strategic movements, stalwart names like Sony, Keyword Studios, Focus Entertainment, and Team 17 also showcased their prowess in the M&A arena. Notably, the Q2 M&A deal value demonstrated a significant upswing compared to its predecessor, Q1.
In tandem with the M&A symphony, the public markets painted a story of resurgence and growth. The Drake Star Gaming Index achieved a remarkable 15% ascent during the initial half of the year, mirroring the upward trajectory of the S&P 500 index. Meanwhile, the VanEck Video Game Tech ETF outperformed expectations, surging beyond 30%. Amid this dynamic backdrop, Embracer took center stage with a sweeping restructuring initiative following a substantial valuation dip in Q2.
Shifting focus to the private investment arena, the report reveals a tapestry of 196 announced private financings, boasting an announced value of $700 million for the quarter. Although showcasing a modest decline from the preceding quarter, over 80% of these investments were directed towards early-stage gaming enterprises. The stage was graced by notable funding rounds, with Everdome securing an impressive $50 million, closely followed by Anzu.io with $48 million, Mythical Games with $37 million, and Nodwin Gaming with $28 million. In the realm of emerging trends, Q2 witnessed a surge in investments within the Blockchain sector, with 52 deals – a notable uptick from the 42 in Q1. Simultaneously, mobile and PC/Console segments continued to capture investor interest as top investment categories.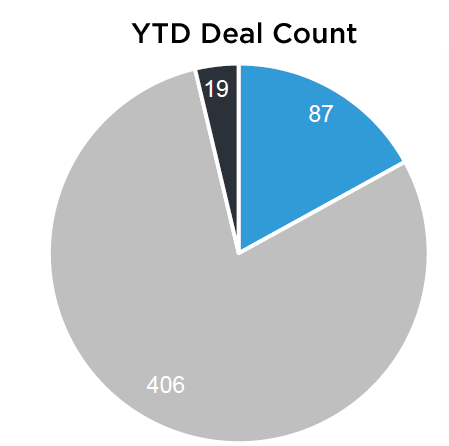 Among the architects of this dynamic gaming landscape, the VC league table for the first half of the year bore the indelible stamp of BITKRAFT in the lead position, followed by esteemed names like Andreessen Horowitz, Griffin Gaming, Makers Fund, and Play Ventures. As the curtain rises on the Q2 2023 Gaming Report, a symphony of strategic shifts, financial crescendos, and visionary investments beckons us to explore the ever-evolving world of gaming with a discerning eye.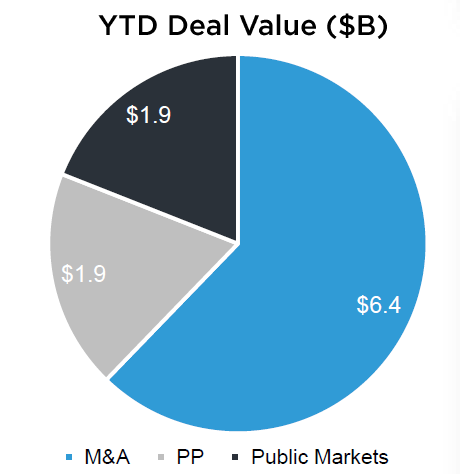 2023 Outlook
Q3 launched on a promising trajectory, setting the stage for further industry dynamics. The finalization of the Savvy Gaming / Scopely deal infused positivity, while across the legal realm, a U.S. court ruling favored the monumental Microsoft / Activision deal. The period also witnessed a strategic financial ballet as Goldman Sachs, in partnership with General Atlantic and Lego, orchestrated a $1.7 billion acquisition of Kahoot, marking a significant move in the educational games platform sector through a take-private endeavor.
Anticipations for the latter half of the year encompass a gradual surge in M&A deal engagements. The Savvy Gaming entity remains a dynamic player in this landscape, keeping its momentum intact with acquisitions and minority investments in publicly-traded companies like EA. A crescendo of possibilities looms, including the potential acquisition of a substantial PC / console publisher, with Scopely poised for an equally vibrant run. Embracer's strategic overture is projected to encompass a mix of divestments from certain studios while simultaneously embracing new additions to its creative portfolio.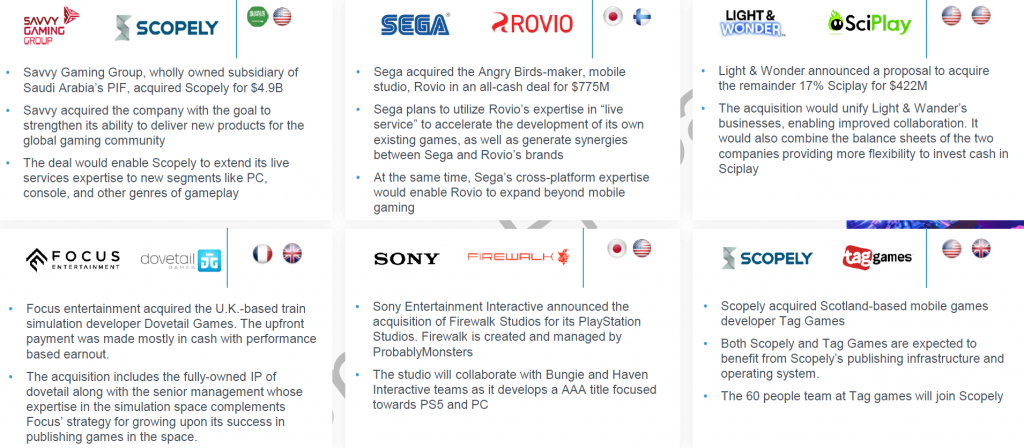 Amid the recovery tapestry of public markets, the spotlight falls on IPO-ready gaming companies that are rekindling their exploration of initial public offerings. In parallel, a growing appetite among private equity firms to acquire publicly traded gaming entities paints a vivid picture of market interest, with whispers of Playtika emerging as a prime candidate in this exciting narrative.
In tune with the industry's ebb and flow, the investment landscape exhibits a nuanced tempo. While the preceding year saw an influx of capital into gaming and blockchain funds, 2023 has introduced a note of investor caution. A rhythm defined by a robust collection of early-stage funding rounds takes center stage, contrasting the subdued frequency of later-stage financings. Amid these notes, the segments of AI and tools continue to radiate heat, sustaining their allure in the ever-evolving symphony of the gaming realm.
Gaming key headlines
The gaming industry's Q2 2023 was a canvas awash with dynamic acquisitions and funding endeavors that painted a vivid tapestry of industry shifts and strategic aspirations. Among the standout acquisitions, Savvy Gaming Group made a resounding entrance, securing the mobile games developer and publisher Scopely for an impressive $4.9 billion. Meanwhile, SEGA Corporation's $775 million acquisition of Rovio, the Finnish mobile game company renowned for the iconic Angry Birds franchise, echoed through the industry after discussions between Playtika and Rovio reached their conclusion.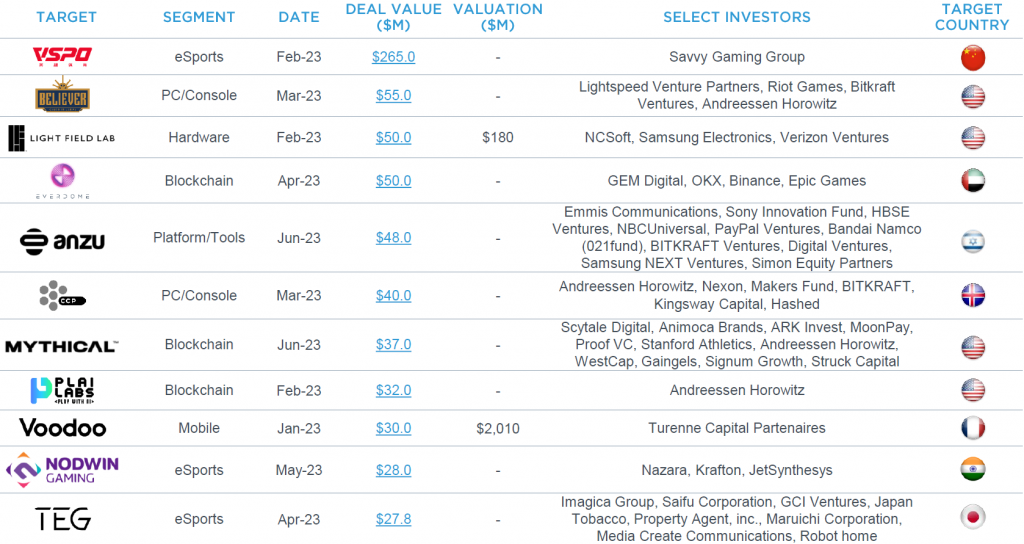 The acquisitions spree continued with Light & Wonder's calculated maneuver, acquiring the remaining 17% shares of Sciplay at a value of $422 million, thereby asserting full ownership. Focus Entertainment diversified its portfolio by acquiring Dovetail Games, the U.K.-based train simulation developer. Sony Interactive Entertainment cast its acquisition net wider with the integration of Firewalk Studios, a multiplayer-focused studio birthed by ProbablyMonsters.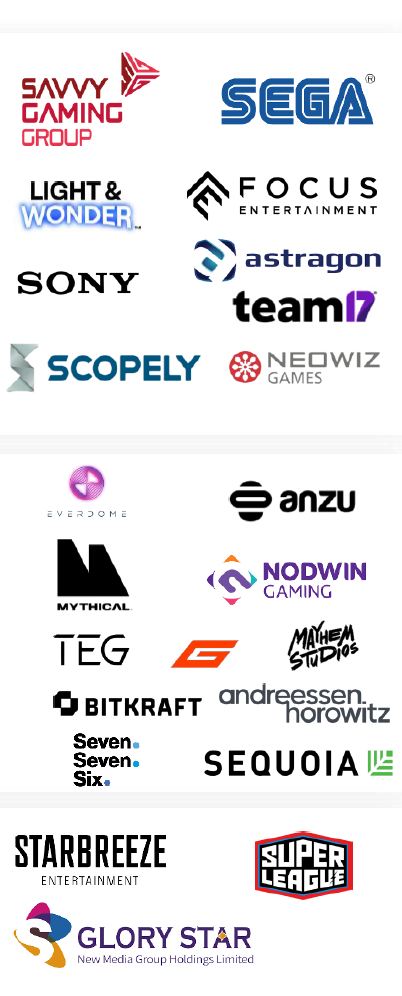 Scopely, in its pursuit of expansion, added Scottish mobile games developer Tag Games to its arsenal, embracing the legacy of titles like Angry Birds Action, Scrabble Go, and Pocket Mortys. Astragon Entertainment, a subsidiary of Team 17, ventured into acquisition territory, bringing Independent Arts, one of Germany's oldest game development studios, into its fold. Neowiz Games strengthened its development capabilities by acquiring Korean mobile MMORPG developer Fow Games, a strategic move for new IP acquisition.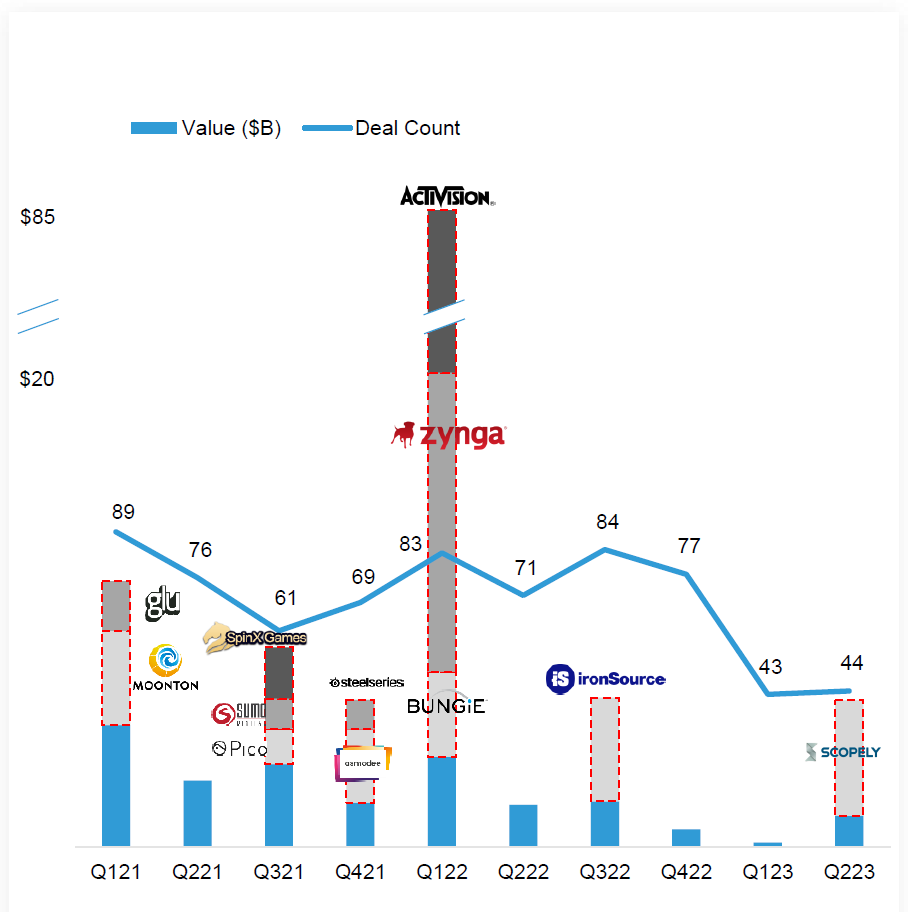 Shifting gears to funding rounds, Everdome, the blockchain-based metaverse platform, raised a staggering $50 million, the crescendo of this investment round orchestrated by GEM Digital Limited. Anzu, the in-game advertising platform operator, secured $48 million in a Series B funding round, an endeavor directed by Emmis Communications. India-based esports company Nodwin Gaming entered the funding spotlight with a notable $28 million infusion, attracting investments from industry giants like Sony, Krafton, JetSynthesys, and Nazara.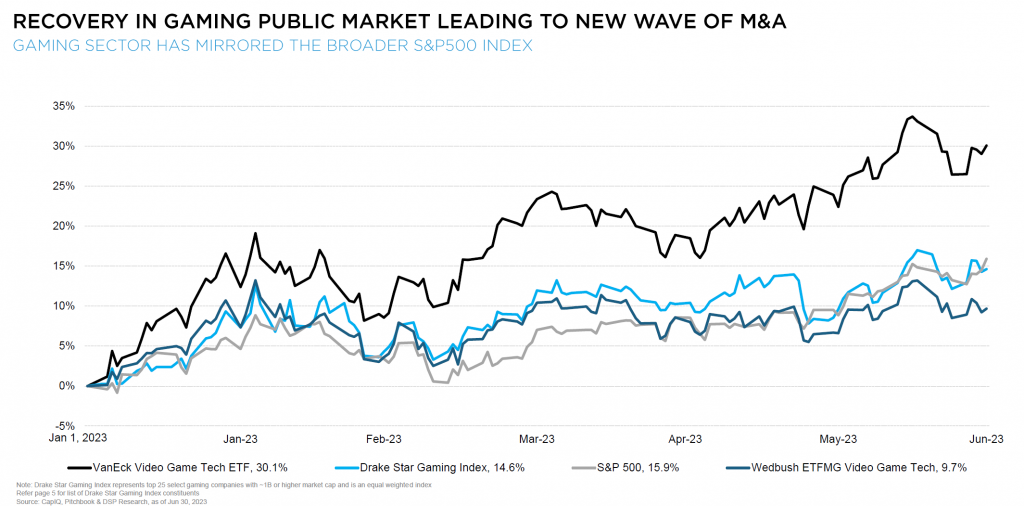 Japanese esports entity TEG, Inc. made a splash in its Series A financing, securing $27.8 million from investors including Media Create Communications Inc., Saifu Corporation, and GCI Ventures. Goals, envisioning an esports-ready soccer game, scored big with a $20 million Series A round led by Seven Seven Six. Mayhem Studios, under the wings of online gaming unicorn Mobile Premier League, raised $20 million in a Series A round, guided by the stewardship of Sequoia Capital.
Notably, the interplay of funding extended beyond gaming development and into evolving paradigms. Karate Combat secured an $18 million funding round led by BITKRAFT Ventures, fostering the ambitious vision of building Web3 and live mixed reality sports experiences.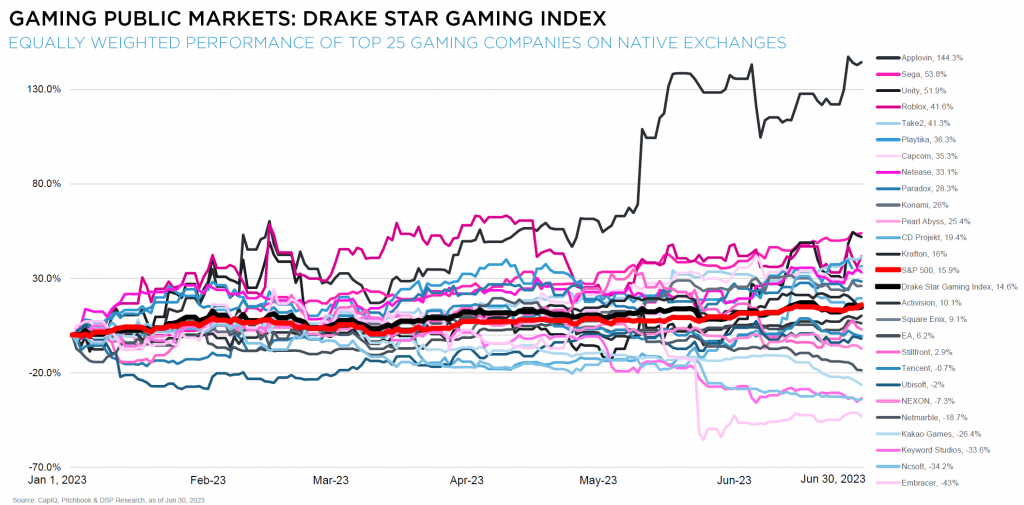 As the curtain fell on Q2 2023, the industry's energy remained palpable, fueled by the fervor of acquisitions and investments that shaped the gaming landscape's path ahead. Chinese metaverse, advertisement, and online gaming powerhouse Glory Star New Media Group underscored this sentiment with a $60 million injection from two institutional investors through a PIPE deal. Starbreeze strategically raised $43.5 million through a rights issue, poised to amplify its investments in game development and publishing, coupled with debt repayment. Super League Gaming, in its own funding initiative, secured $23.8 million, amplifying its growth prospects and debt reduction strategy in equal measure.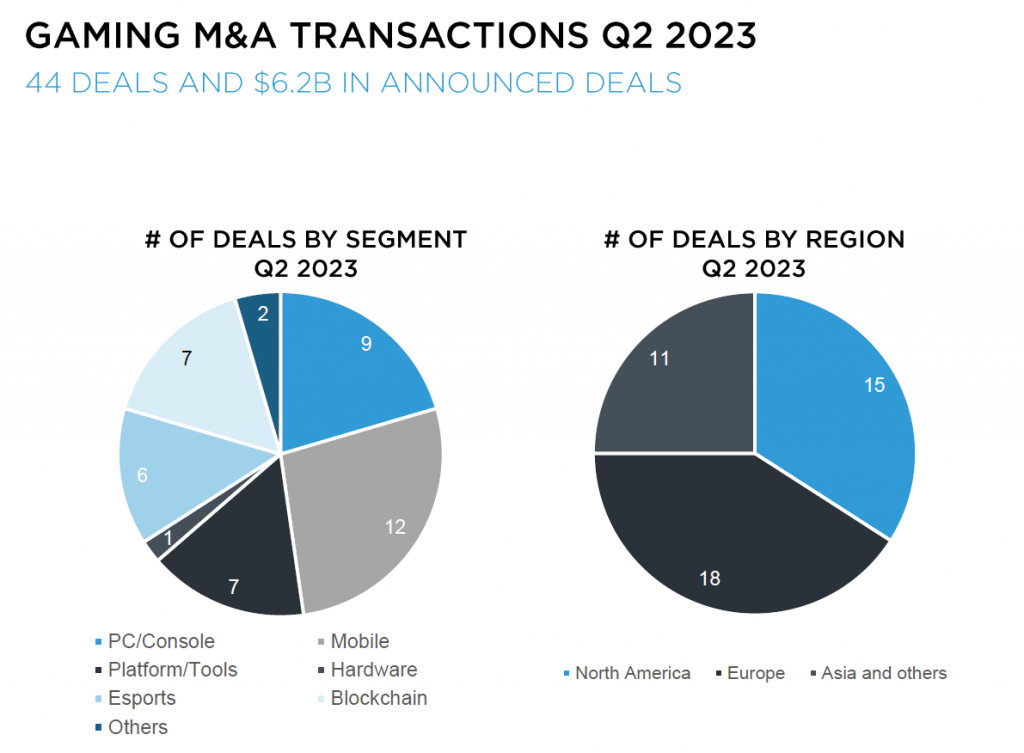 Why invest in Gaming?
The gaming industry, a dynamic and ever-evolving landscape, has consistently proven itself to be a lucrative arena for investors seeking growth and opportunity. Q2 2023 illuminated the industry's potential with a series of strategic acquisitions and funding rounds that showcased its vibrancy and potential for significant returns. Here are five compelling reasons why investing in the gaming sector could be a smart move:
1. Unprecedented Acquisition Frenzy: Q2 2023 witnessed a flurry of high-profile acquisitions that underscore the industry's resilience and potential for strategic growth. Savvy Gaming's acquisition of Scopely for $4.9 billion and SEGA Corporation's $775 million takeover of Rovio set the stage for a new era of consolidation and expansion. These moves highlight the gaming industry's ability to attract substantial investments, reaping benefits for both the acquiring companies and their investors.
2. Diversity in Acquisition Targets: The acquisition landscape is diverse, encompassing not only established game developers but also educational gaming platforms and simulation developers. This diversity showcases the industry's adaptability and capacity to cater to various niches and markets. Investments in such diverse sectors within gaming offer a multi-faceted approach to portfolio growth.
3. Thriving Funding Ecosystem: Beyond acquisitions, the funding rounds that marked Q2 2023 reveal a robust ecosystem that nurtures innovation and creative ventures. Everdome's $50 million blockchain-based metaverse platform funding, Anzu's $48 million Series B round for in-game advertising, and Nodwin Gaming's $28 million infusion exemplify the varied investment opportunities within the gaming sector. This flourishing funding landscape presents investors with an array of projects to support, fostering innovation and growth.
4. Embracing Emerging Technologies: The gaming industry has consistently been at the forefront of embracing emerging technologies, from blockchain to AI. Everdome's blockchain-based metaverse and Anzu's in-game advertising platform exemplify the innovative amalgamation of gaming with cutting-edge technologies. This fusion not only diversifies investment opportunities but also positions investors at the forefront of technological advancements.
5. Intersection of Entertainment and Technology: Gaming sits at the nexus of entertainment and technology, creating a unique and captivating ecosystem. With investments in gaming, investors are not only supporting a thriving industry but also capitalizing on the convergence of interactive entertainment and technological innovation. As gaming continues to expand its influence beyond traditional boundaries, the potential for substantial returns becomes increasingly enticing.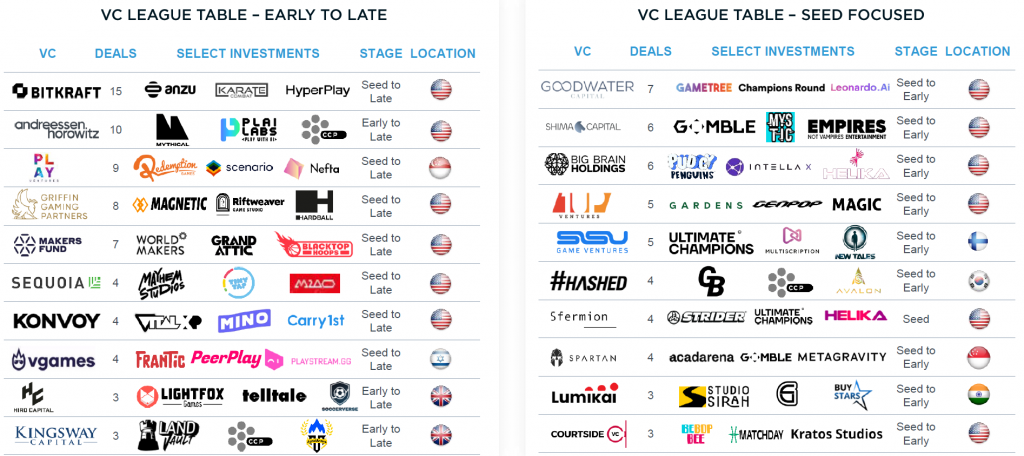 In Conclusion: The gaming industry's landscape, as illuminated by Q2 2023's acquisitions and funding activities, offers investors a tapestry of opportunity. The unprecedented acquisition frenzy, diversity in acquisition targets, a thriving funding ecosystem, the integration of emerging technologies, and the convergence of entertainment and technology are five compelling reasons to consider investing in gaming. As the industry continues to evolve, investors stand to benefit from both the present momentum and the promising horizons that lie ahead. However, like any investment, careful consideration, due diligence, and understanding of the market trends are essential for making informed decisions that align with individual investment goals.