No need to leave the comfort of your couch—mobile gaming is bringing the action straight to your fingertips. As it takes a starring role in the gaming universe, learning how to redeem Steam codes on your phone is essential. This guide is tailored to help you navigate the ins and outs of buying and selling Steam keys with ease. Ready to turn your mobile device into a gaming powerhouse? Let's dive in!
Why the Mobile Experience is No Longer Optional for Gamers
You might still reminisce about the good ol' days of desktop gaming, but mobile is carving its niche—fast. The convenience of going through Steam offers while commuting or lying on the couch is undeniable. So, if you want to be in the loop and grab those deals, you better jump on the mobile train.
The Age of Mobile: Why You Need to Learn How to Redeem Steam Codes on Your Phone
Being able to redeem Steam codes via your mobile device opens up an entire world of possibilities. You no longer have to be tethered to your desktop to take advantage of Steam sales. With mobile, you can buy steam keys and redeem them instantly, anytime, anywhere.
How This Guide Will Turn You Into a Mobile Steam Pro
This guide is your A-Z roadmap to navigating the Steam app. From understanding what Steam codes are, to tips and tricks for using the app efficiently, you'll find it all here. Stick around and you'll be a pro in no time.
The Basics: What Are Steam Codes and Why Do You Need Them?
Steam codes are essentially digital keys that unlock games or add-ons on the Steam platform. They're your ticket to the gaming universe, whether you want to buy a Steam game as a key or even get your hands on some exclusive in-game content.
The Art of the Deal: Cheap Steam Keys, Cheapest Steam Keys and More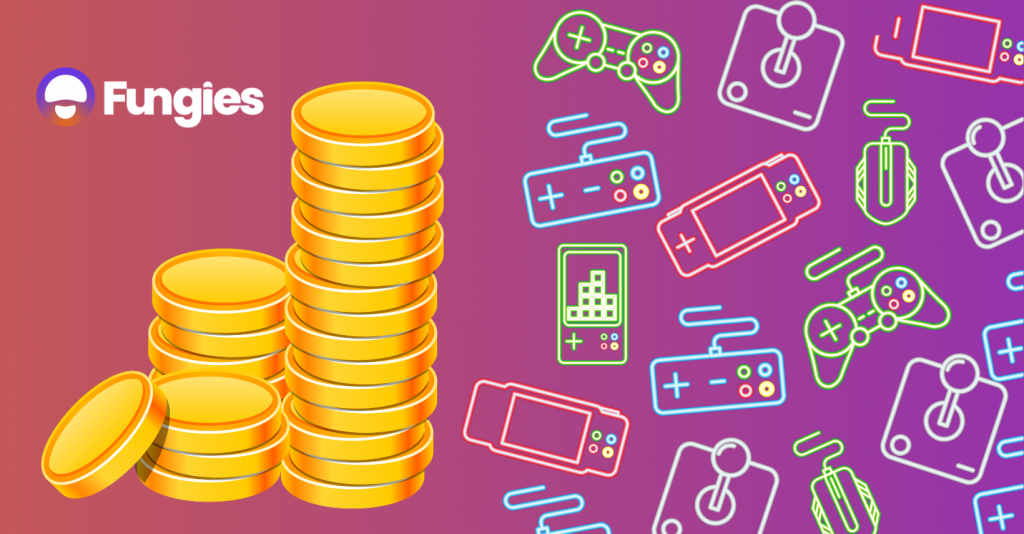 Why pay full price when you don't have to? Numerous third-party websites offer Steam keys at discounted rates. Some are even specialized marketplaces where gamers themselves sell steam keys. Always be on the lookout for deals to snag those cheap Steam keys.
Where to Buy Steam Game as Key: Your Options Explored
When it comes to buying Steam keys, you're not limited to just the Steam platform. There are various third-party sites that offer them as well. However, do your due diligence by checking reviews and ratings to verify the site's credibility. A little caution goes a long way.
Buying Directly From Indie Devs: A Win-Win Scenario
Buying directly from indie developers or through their personal storefronts is another fantastic option. It's a win-win—you get your Steam key, and the developer receives more of the revenue compared to third-party resellers. So if you're all about supporting indie talent, this route is worth considering. Just make sure the storefront is trustworthy.
Setting the Stage: Prepping Your Mobile for Steam Code Redemption
Before diving in, there are a few housekeeping tasks.
First on the List: Updating Your Steam App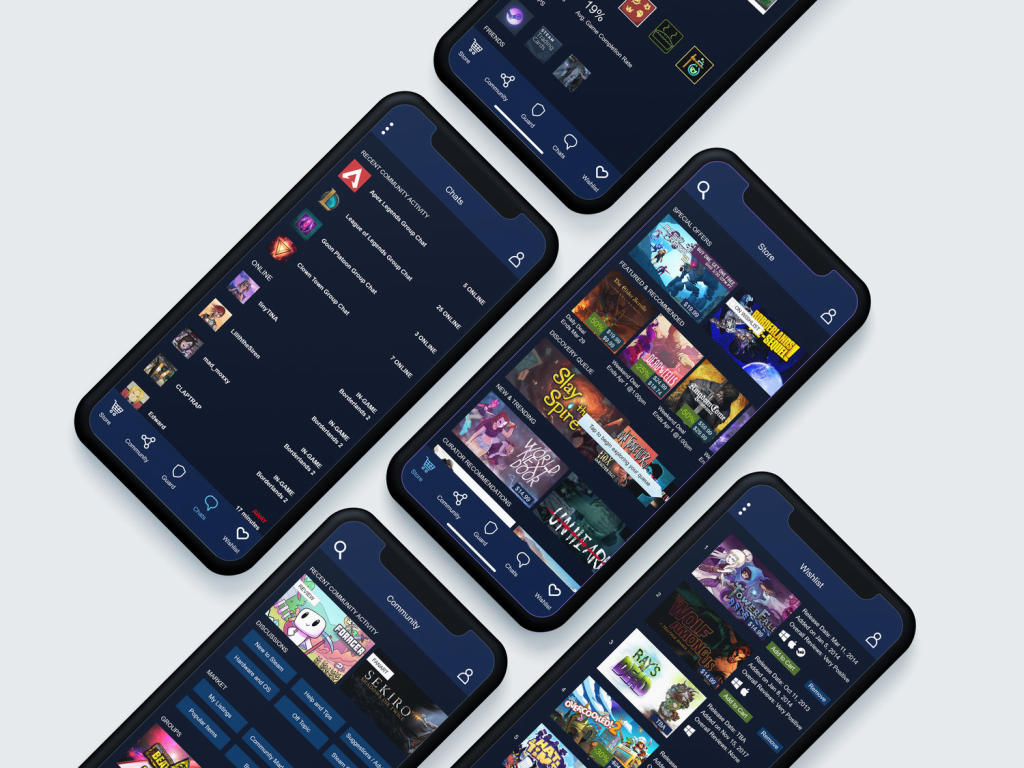 Keeping your app current will help you avoid any compatibility issues that could spoil your gaming plans. Navigate to your device's app store to check for any available updates and install them as needed.
Next, Let's Talk Payment Security
If you're planning to buy Steam keys, you'll want to ensure your payment information is as secure as possible. Many modern mobile devices offer advanced security features like biometric authentication, which includes fingerprint or facial recognition. Make use of these features to add an extra layer of protection to your account. After all, better safe than sorry, right?
The Step-by-Step Guide to Redeeming a Steam Code on Mobile
Log in, Lock in: Accessing Your Steam Account on Mobile
Open the Steam app and log into your account. Make sure you're entering the correct credentials; otherwise, you'll be locked out after a few failed attempts.
Navigating to the Right Spot: Where to Input Your Steam Code
Once logged in, tap on the menu (three horizontal lines on the top left), and navigate to 'Account Details.' From there, scroll down and find the 'Add funds to your Steam Wallet' section. Here you'll see an option for 'Redeem a Steam Gift Card or Wallet Code.' Tap on that.
The Moment of Truth: Entering and Submitting Your Code
You'll now see a text field where you can input your code. Make sure to type it exactly as shown. Once entered, tap on 'Continue,' and voila! Your Steam Wallet should be updated with the new funds.
Pro Tips: Making the Most of the Steam App
How to Use the Wishlist Feature on Mobile
Think of the wishlist as your personal gaming bucket list right inside the Steam app. It's not just a place to dream about games you'd like to play someday; it's a smart tool that helps you keep track of them. Once you add a game to your wishlist, you'll get alerts whenever it goes on sale. So not only do you get to keep an eye on titles that interest you, but you can also snag them at discounted prices. It's a simple way to buy Steam keys without breaking the bank.
Get Notified: Setting Up Alerts for Discounts on Steam Keys for Sale
But what if you want to be in the loop for all things Steam, not just your wishlist? Easy peasy. Within the Steam app, navigate to 'Settings,' then go to 'Notifications.' From there, you can enable alerts for various types of discounts and sales. By toggling this on, you'll be first in line to know when there's a chance to buy those coveted Steam keys for less.
Troubleshooting: What If Things Don't Go as Planned?
Error Messages: What They Mean and How to Fix Them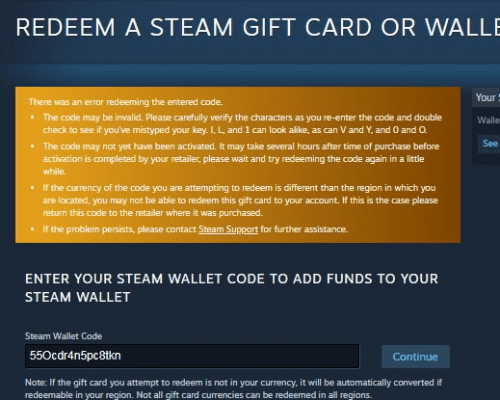 Let's face it, technology isn't always our best friend. You might run into error messages like 'Invalid Code' or 'Code Already Redeemed' when trying to redeem your Steam codes. Before you pull your hair out, take a deep breath. Often, these issues can be easily resolved.
Firstly, double-check to make sure you've entered the code correctly. A simple typo can be the culprit. If that's not the issue, try waiting a few minutes before re-entering the code. Sometimes servers get overloaded, especially during peak times or big sales, and a little patience can go a long way.
Contacting Steam Support: When to Raise the White Flag
If you've tried the above steps and are still running into walls, it might be time to bring in the experts. Steam Support is generally pretty good at sorting out issues like these. To contact them, navigate to the 'Help' section within the Steam app or go to the Steam Support website. Fill out the required information, explaining your issue as clearly as possible. They're usually responsive and can help you find a solution.
The Resale Market: How to Sell Steam Keys
Is It Legal? Understanding the Resale of Steam Keys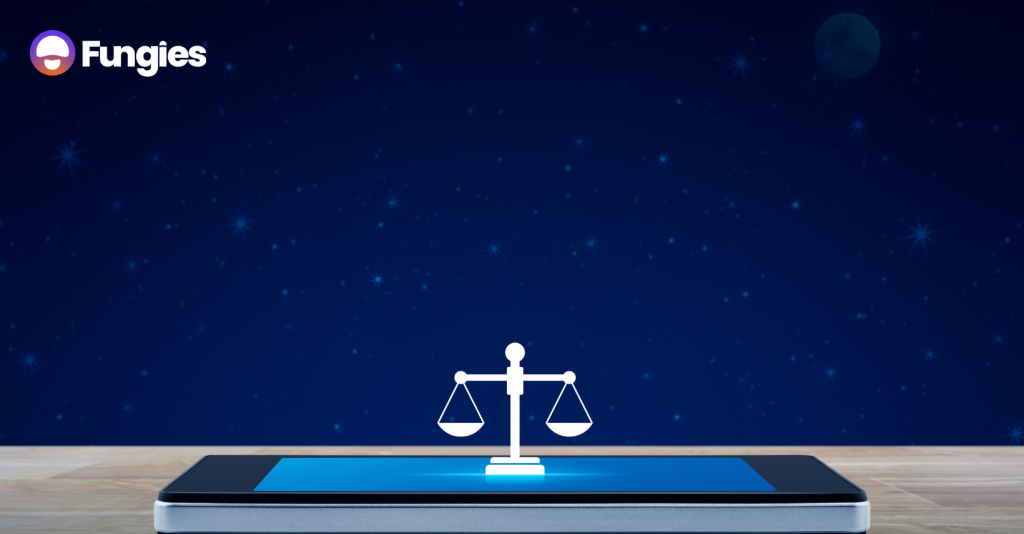 It is generally legal to sell unused Steam keys in most jurisdictions. However, there are a few things to keep in mind.
Steam's own policies prohibit the resale of Steam keys.
This means that Steam could ban your account if they catch you doing so.
The legality of reselling digital goods, including Steam keys, can vary from country to country. In some countries, such as the European Union, there are laws that protect the first sale doctrine, which allows consumers to resell copyrighted works after they have purchased them. In other countries, such as China, the resale of digital goods is illegal altogether.
If you are considering selling unused Steam keys, it is important to be aware of the risks involved. It is also important to check the laws in your jurisdiction to make sure that it is legal to do so.
Here are some tips for selling unused Steam keys safely:
Only sell codes through reputable resellers or marketplaces.
Be careful about selling codes to buyers who have a new or unverified account.
Never give out the code before receiving payment.
Use a secure payment method, such as PayPal or Stripe.
Keep records of all of your sales, including the buyer's information and the payment method used.
Platforms for Steam Key Resale: What You Should Know
Platforms like G2A and Kinguin are popular for reselling Steam keys. However, before you list your keys for sale on any platform, it is important to do your research and read up on the platform's terms of service and community reviews.
What To Keep In Mind When Choosing A Platform To Resell Your Steam Keys
Reputation
Consider the reputation of the platform. Read online reviews to see what other users have to say about their experiences with the platform.
Fees
Some platforms charge fees for listing and selling keys. Be sure to compare the fees charged by different platforms before you choose one.
Security
Make sure that the platform you choose has robust security measures in place to protect your account and your buyers' payments.
Buyer protection
Some platforms offer buyer protection programs that can help buyers get a refund if they receive a defective key or if the seller does not deliver the key. Look for a platform that offers buyer protection, especially if you are selling high-value keys.
More About G2A And Kinguin
G2A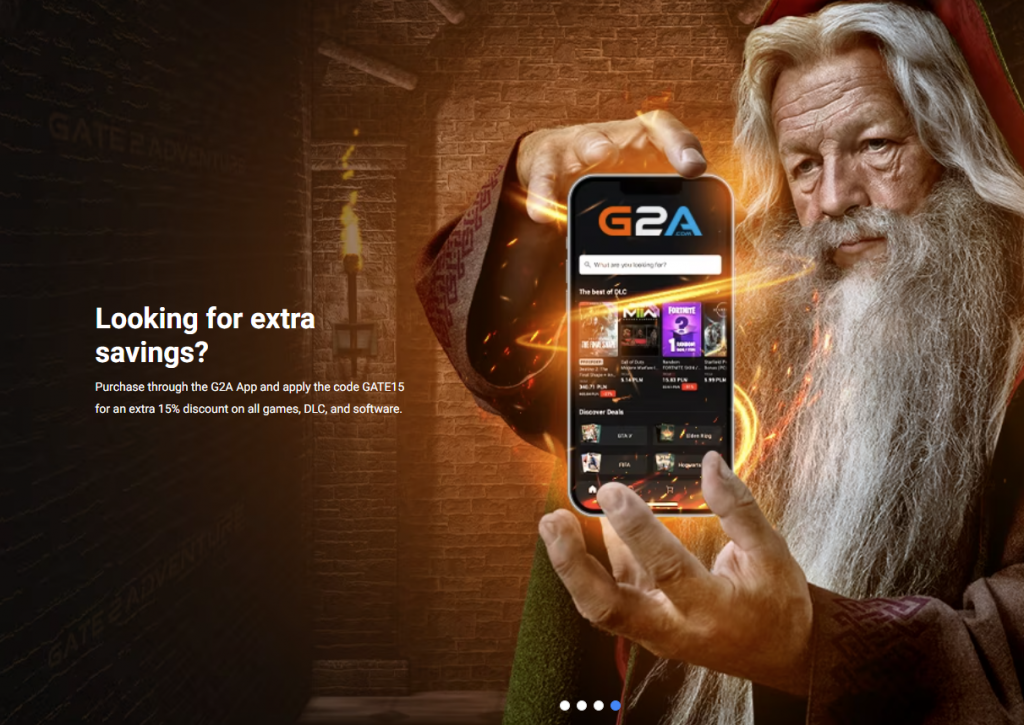 G2A has a mixed reputation. Some users have reported having positive experiences with G2A, while others have reported being scammed or having difficulty getting refunds. G2A also charges relatively high fees for listing and selling keys.
Kinguin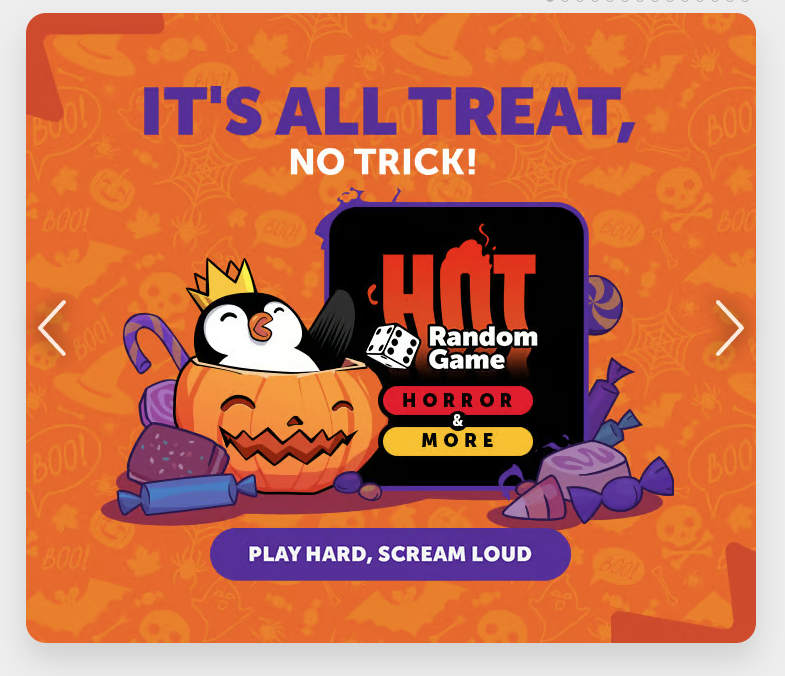 Kinguin has a better reputation than G2A, but there have still been some reports of scams and problems with refunds. Kinguin charges lower fees than G2A, but they do not offer buyer protection on all sales.
Common Myths and Misconceptions about Steam Codes
Steam Codes Expire: Busting the Myth
Contrary to popular belief, Steam codes don't expire. If you've got an old code lying around, chances are it's still good to go.
You Can't Redeem Steam Key Mobile: Why This Is Incorrect
Yes, you can! As you've seen in our step-by-step guide, redeeming a steam key on mobile is not only possible but also pretty straightforward.
Quick Recap
How to Redeem Codes on Steam via Mobile in a Nutshell
Log into your Steam account on the app.
Navigate to 'Account Details.'
Scroll down to 'Add funds to your Steam Wallet.'
Tap on 'Redeem a Steam Gift Card or Wallet Code.'
Enter your code and tap 'Continue.'
A Checklist for Seamless Steam Code Redemption on Mobile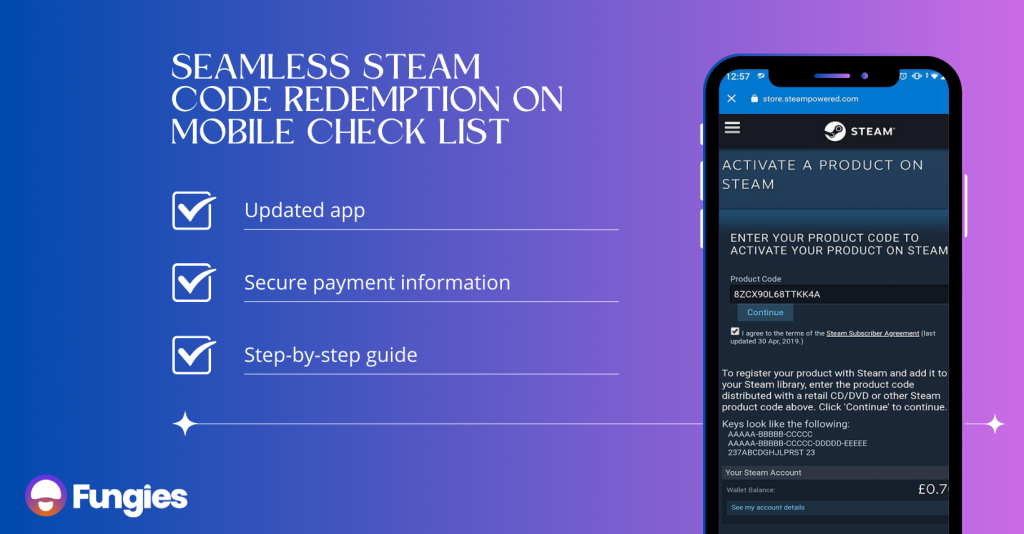 How Steam on Mobile Compares to Other Platforms
Steam vs Epic Games Store: The Mobile Showdown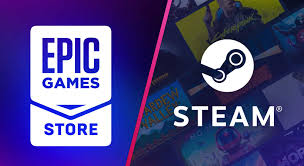 Steam has a significant advantage over the Epic Games Store when it comes to mobile code redemption. Steam's mobile app has a dedicated section for redeeming codes, making it easy to add new games and other products to your library. The process is straightforward and reliable, and Steam's customer support is always on hand to help if you encounter any problems.
In contrast, the Epic Games Store mobile app does not have a dedicated code redemption section. To redeem a code on the Epic Games Store mobile app, you need to open the app in a web browser and go to the Epic Games Store website. This can be a cumbersome process, and it is not as reliable as Steam's code redemption system.
Why Steam Has the Upper Hand When It Comes to Mobile Redemption
There are a few reasons why Steam has the upper hand when it comes to mobile code redemption:
Established infrastructure
Steam has been around for over 15 years, and it has a well-established infrastructure for code redemption. This means that Steam's code redemption system is reliable and efficient.
Steam regularly updates its mobile app, adding new features and fixing bugs. This ensures that the Steam mobile app is always up-to-date and easy to use.
Steam has a team of dedicated customer support representatives who are available to help users with any problems they may encounter, including problems with code redemption.
Steam also offers a variety of other features on its mobile app, such as the ability to browse and purchase games, manage your library, and chat with friends.
The Epic Games Store mobile app is still under development, and it does not yet offer all of the same features as the Steam mobile app. However, Epic Games has stated that they are committed to improving the mobile app and adding new features in the future.
Indie Game Developers Corner: Navigating Steam Codes on Mobile
The Importance of Mobile Accessibility for Your Indie Game
If you're an indie developer, mobile accessibility isn't just a 'nice-to-have'—it's crucial. Gamers are increasingly turning to mobile, so make sure your game is optimized for it.
Why Mobile Gamers Are an Audience You Can't Ignore
Mobile gamers form a significant chunk of the market. Ignoring them is basically leaving money on the table.
Quick Tips for Optimizing Your Game for Mobile Redemption
Think mobile-first. Ensure your game supports mobile redemption of Steam codes and provides a seamless experience across platforms.
Best Practices for Generating and Distributing Steam Keys
Opt for a multi-channel approach. Use social media, partnerships, and gaming forums to distribute your keys and create buzz.
Conclusion
In a world where our phones are basically glued to our hands, knowing how to buy and redeem Steam codes on mobile is a game-changer. It's not just about making life easier; it's about playing games your way, on your time. So go ahead, use this guide to level up your mobile Steam skills. Why keep the fun waiting? Let's get gaming!