In the ever-evolving world of blockchain gaming and the expansive metaverse, July brought forth exciting unveilings and significant shifts. According to DappRadar, the landscape was alive with potential and rapid progress, as investments surged and major players like Google acknowledged the impact of Web3 gaming. This article delves into the key insights from the past month, offering a glimpse into a future that's actively taking shape at the crossroads of gaming, blockchain, and the sprawling metaverse.
Key Highlights:
Blockchain gaming took the spotlight, accounting for a substantial 41% of on-chain dapp activity in July, translating to 712,611 daily unique active wallets (dUAW). Notably, WAX led the pack with an impressive 300,325 dUAW.
Genkai NFTs garnered attention, boasting a trading volume exceeding $491,000. An adjustment in the floor price brought it down to 0.19 ETH, marking a 24% decrease from its initial mint value.
Arbitrum gaming gained traction, with Mighty Bear Games making a strategic shift from Polygon. In addition, TreasureDAO made waves by recording over $842,000 from an impressive 73,580 transactions in a single month.
Sweat Economy emerged as the most played game dapp in July, amassing over 739,000 monthly users.
Metaverse trading volumes experienced a dip, hitting a year-low of $5.6 million due to 10,796 land sales.
In July 2023, investments in web3 gaming rebounded to $297 million, with a significant 63% directed toward infrastructure enhancement.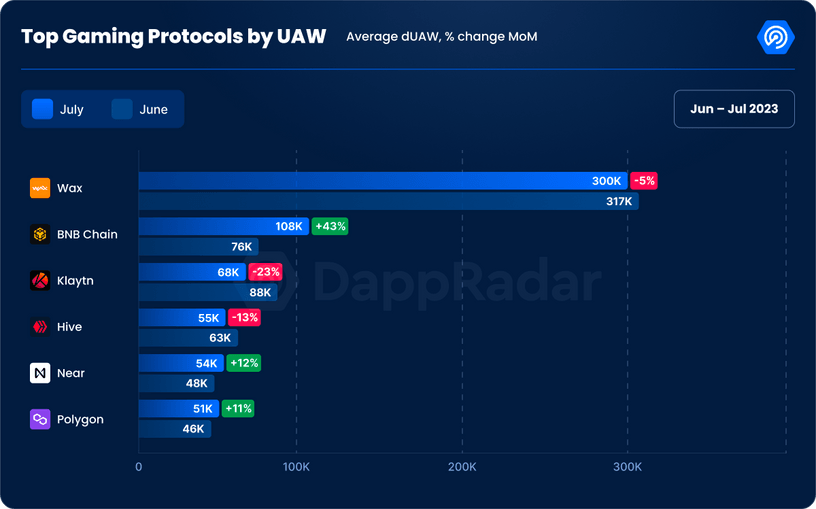 As we navigate this dynamic landscape, the interplay of gaming, blockchain, and the burgeoning metaverse continues to shape the industry's trajectory. This article provides valuable insights for those interested in staying updated on the unfolding narrative of blockchain gaming and the metaverse, shedding light on recent developments that hold the potential to reshape the gaming landscape.
Resurgence of Blockchain Gaming: June's Landscape Recap
In a realm abuzz with the rise of DeFi and the excitement surrounding L2 airdrops from previous months, blockchain gaming staged an impressive comeback.
Following a brief dip in market dominance during June, blockchain gaming rapidly reasserted its significance in the dapp landscape. The current data reveals a total of 712,611 daily unique active wallets (dUAW) for the sector. Although this represents a slight 0.5% month-on-month decrease, it still commands a substantial 41% share of the entire industry's engagement.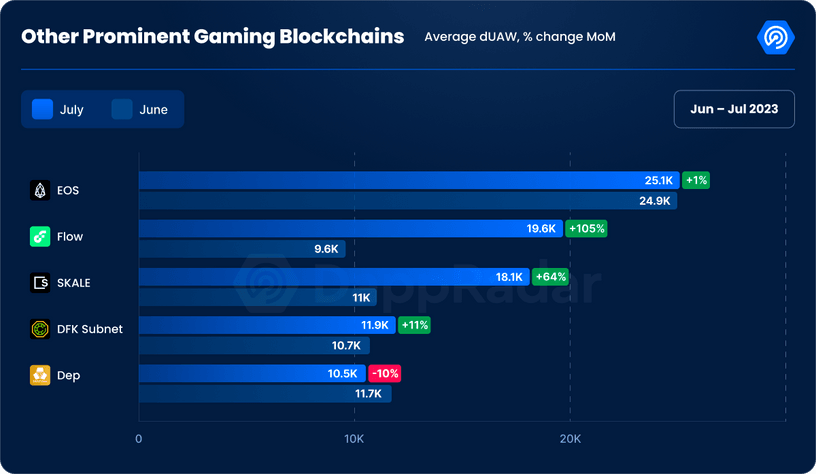 Shaping the Dapp Ecosystem: Blockchain's Influence on Unique Active Wallets
Examining the performance of individual blockchains, WAX emerges as the frontrunner in the gaming sector, according to the UAW metrics. With a count of 300,325 dUAW this month, WAX goes beyond being synonymous solely with the acclaimed Web3 game, Alien Worlds. It also hosts other trending games like Wombat Dungeon Master and Taco.
BNB Chain, on the other hand, has surged back to secure the second position. Experiencing a remarkable 43% surge this month, it tallied 108,311 dUAW. This impressive leap owes much to gaming hubs like Xterio and Gaimin.
Emerging Players and Diverse Performances
While a few prominent blockchains witnessed minor declines this month, new entrants are making their mark. Here's a quick snapshot:
SKALE, the platform behind games like CryptoBlades and 5TARS, saw a remarkable 64% uptick, registering 18,133 dUAW.
Flow stole the limelight with an astonishing 105% growth, recording 19,621 dUAW.
Ronin and CyberKongz Team Up to Shape Genkai's NFT and Gaming Future
In the vibrant realm of blockchain gaming, a groundbreaking partnership is on the horizon that could redefine the landscape. Ronin blockchain, widely recognized as the home of Axie Infinity, has been synonymous with its dominant presence in the gaming scene. However, winds of change are blowing. Enter the stage, the Ethereum-based NFT collection, CyberKongz, which recently unveiled a sneak peek into its upcoming anime-inspired Genkai NFTs set to make waves on the Sky Mavis blockchain.
Strengthening Bonds: A Pioneering Collaboration
Building on its existing rapport with Ronin, CyberKongz is gearing up to migrate its "Play & Kollect" on-chain community, a bustling hub for NFT enthusiasts to explore, mint, and collect NFTs, from Polygon to Ronin. This ambitious alliance also entails a collaborative endeavor between CyberKongz and Sky Mavis to introduce a Genkai-themed game, firmly rooted in the Ronin ecosystem.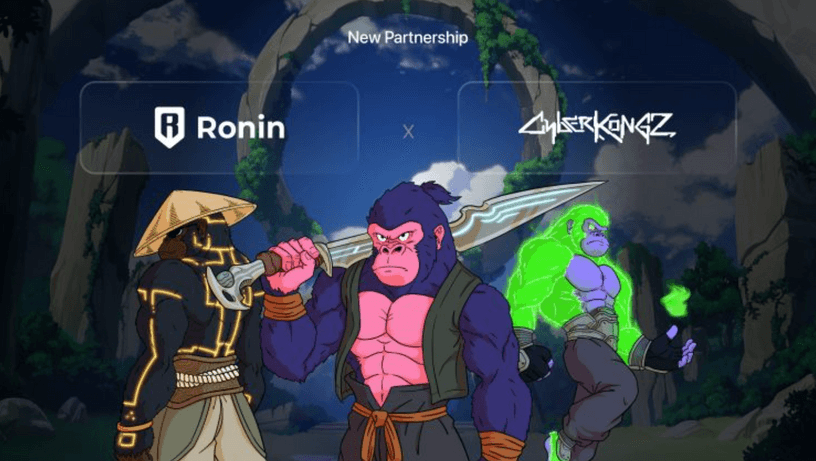 Inside the Genkai NFT Universe
The Genkai NFT collection brings a limited supply of 20,000 units to the table. Among these, 4,000 will find their genesis on Ronin, while the remaining 16,000 will originate from Ethereum. An interesting aspect is that Ethereum-based assets can seamlessly transition to Ronin, promising enhanced flexibility. Exciting news awaits the Axie Mystic community, as approximately 1,000 holders will be bestowed with a complimentary Genkai airdrop from the 4,000 minted on Ronin.
Behind the Curtains: Genkai NFT Mint and Figures
The curtains rose for the Genkai NFT mint on July 27th at 4 pm UTC, catering to pre-registered wallets initially. Subsequently, a public sale was slated for 8 pm UTC, subject to availability. Each mint carried a price tag of 0.25 ETH. Adding to the intrigue, dedicated CyberKongz enthusiasts were treated to a Genkai airdrop, albeit subject to a 180-day vesting stipulation.
Latest statistics paint a compelling picture, with the Genkai NFTs boasting a trading volume exceeding $491,000. Notably, the base price of these NFTs rests at 0.19 ETH, marking a 24% decrease from their initial mint price.
A Future Fueled by Collaboration and Innovation
The alliance between CyberKongz and Ronin extends far beyond the realms of gaming and NFTs. This partnership not only opens doors to a broader Asian collector base through the captivating Genkai collection but also paints a promising future where Ronin evolves beyond its foundational role in Axie Infinity. This evolution signifies a step toward greater diversity in the gaming realm, firmly embracing the spirit of interoperability. As these two forces unite, they carve a path toward a captivating and transformative journey in the blockchain gaming arena.
Ethereum L2's Gaming Evolution: The Soaring Stardom of Arbitrum
In recent months, Ethereum's Layer 2 solution, Arbitrum, has emerged as a true game-changer in the gaming arena. The spotlight has now turned even more intense with the revelation that Singapore's gaming powerhouse, Mighty Bear Games, is making a strategic shift of its renowned "Mighty Action Heroes" game from Polygon directly to Arbitrum.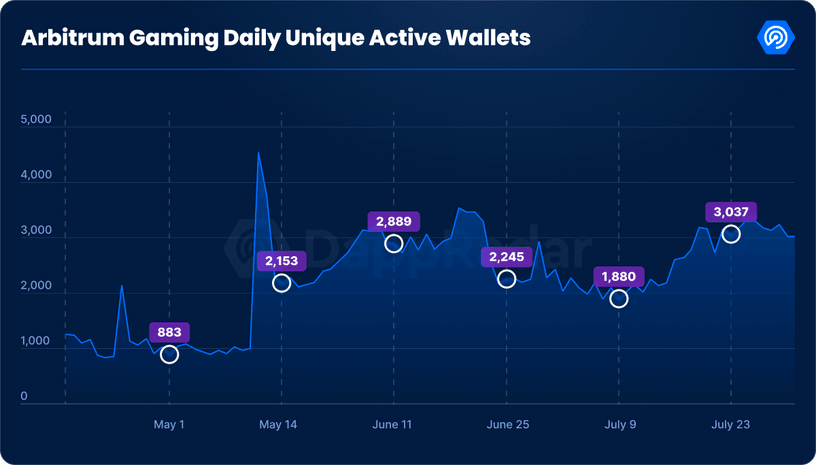 Elevating the strategic move, Mighty Bear Games is embarking on a collaboration with the TreasureDAO gaming universe, accompanied by the integration of the MAGIC token. This partnership delivers a significant boost to TreasureDAO, which has recently reported an impressive transaction volume exceeding $842,000. This impressive sum is a culmination of 73,580 transactions, averaging around $11.4 per transaction.
A Glimpse into "Mighty Action Heroes"
Designed to offer an immersive and user-friendly battle royale experience, "Mighty Action Heroes" ventured into its open beta phase on July 14th, throwing open the doors for enthusiastic gamers to dive right in.
Expanding the Horizons with Arbitrum Nova
Adding another layer of enrichment to the Arbitrum ecosystem is the introduction of Arbitrum Nova – a streamlined version tailored specifically for gaming. The world of gaming on Arbitrum is expanding beyond the confines of the core projects housed under TreasureDAO's umbrella. For instance, Pixel Vault's much-anticipated "BattlePlan!" game, along with its Reboot protocol, is gearing up for its grand debut on Arbitrum Nova.
Technical Nuances and Transition Dynamics
These transitions into the Arbitrum realm bring with them intriguing technical discussions. Arbitrum is built upon Optimistic rollups, setting it apart from Polygon and its allies, who are ardent advocates of the advanced zk-rollups.
However, the rapid adoption trajectory of these Ethereum-centric scaling strategies stands as a significant advantage for the encompassing Ethereum gaming landscape. This momentum firmly situates Ethereum in a favorable position against non-EVM contenders like Solana and Sui. Additionally, it holds its ground against comparatively inflexible chains like BNB.
As the gaming world witnesses this pivot towards Ethereum's L2 solutions, the landscape itself is undergoing a transformative shift. With players like Arbitrum gaining momentum, the future of Ethereum gaming looks incredibly promising, transcending boundaries and redefining possibilities.
Leaders of the Gaming Pack: July's Highlights
July has ushered in captivating transformations in the realm of Web3 gaming, most notably marked by the triumphant return of 'move-to-earn' games. Leading the charge is Sweat Economy, boasting an impressive count of over 730,000 monthly unique active wallets (mUAW), setting the stage for the resurgence of move-to-earn trends. This sentiment is further validated by the ascent of Super Walk, a Klaytn-based fitness social dapp, into the top 10 rankings, attracting a commendable 68,000 users throughout the month.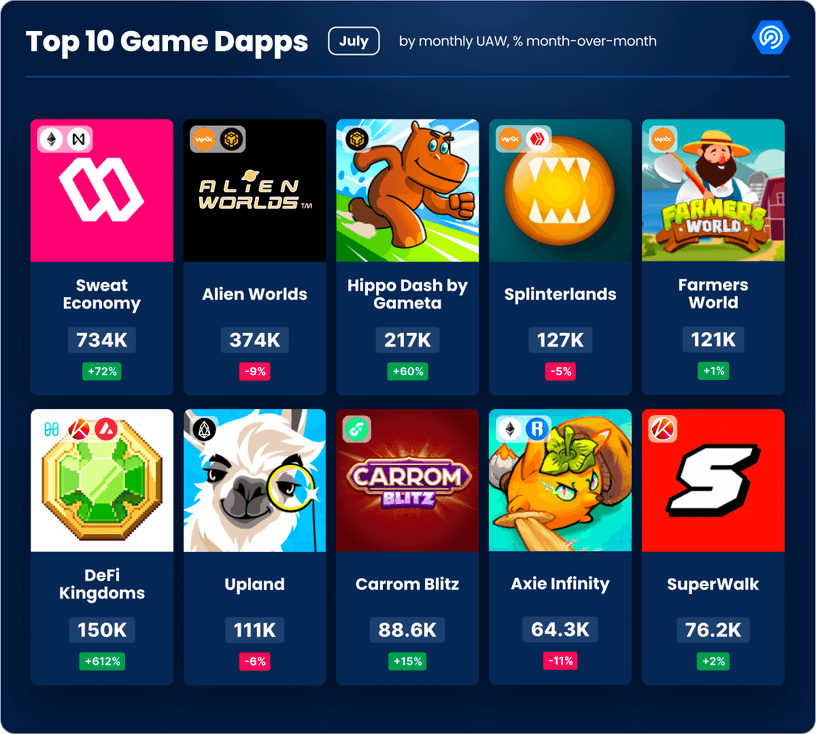 Balancing the Old and the New
While fresh contenders inject excitement, we find consistent performers holding their ground. Alien Worlds, for instance, has secured the second spot, while established favorites like Splinterlands, Upland, Farmers World, and Axie Infinity continue to assert their esteemed positions. These games not only showcase their prowess but have also nurtured thriving communities that play a pivotal role in maintaining their solid foothold in the rankings.
Amidst these standings, the resurgence of Carrom Blitz from Joyride Games aligns seamlessly with the revitalization of Flow UAW, spearheading its impactful comeback.
Shaping the Future: Development Insights
In the development arena, Upland has embarked on a transparent journey, unveiling its ambitious roadmap for Q3 2023. The key takeaways echo a vision of expansive growth, elevated player customization, and heightened opportunities for ownership.
Unveiling Intriguing Trends
A fascinating observation this month is the nearly 1:1 correlation between transactions and UAW for select games, such as Hippo Dash, Alien Worlds, and Farmers World. The very structure of their gameplay might hold the key, suggesting that each transaction could potentially serve as the foundation for a user's active engagement. For those captivated by this phenomenon, we invite you to dive deeper into our dedicated educational piece, where we thoroughly dissect this trend.
In the ever-evolving world of Web3 gaming, July's landscape paints a vivid picture of transformation, innovation, and captivating gameplay dynamics. As these leaders of the gaming pack make their mark, the future of Web3 gaming grows even more promising, with exciting trends and developments reshaping the horizon.
Evaluating the Virtual Realm's Evolution: Is the Hype Over?
As we reflect on June 2023, a notable decline in virtual worlds' performance becomes evident. Trading volumes plummeted to a mere $7.4 million, echoing a somber sentiment. This downturn is mirrored by a count of 12,466 land sales, each averaging at $594 per transaction. July's landscape paints a similar picture, with trading volumes once again hitting a year-low at $5.6 million. This sum originates from 10,796 land sales, averaging $523 each.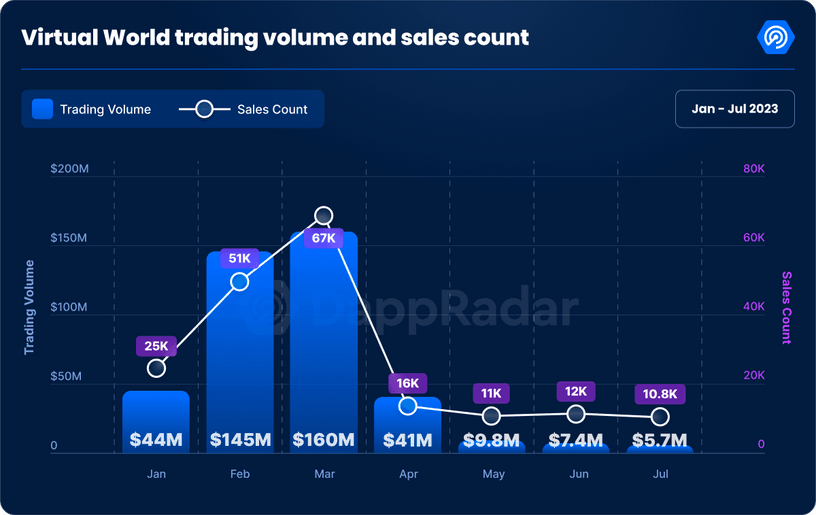 Shifts in the Virtual Landscape: A Deeper Exploration
While the enthusiasm for trading metaverse assets seems to wane, the Q2 metaverse report unveils a different facet. User engagement and interest in this technology remain unwavering, standing as a testament to its resiliency.
Navigating the Leading Players
Delving into the sources of trading activity, our analysis zeroes in on the top 5 Virtual Worlds NFT collections. As anticipated, Otherdeed for Otherside and Otherdeed Expanded shine as dominant forces, collectively contributing an impressive $4 million, encompassing a staggering 72.5% of the total trading volume.
A Glimpse at Evolution and Innovations
Conversely, The Sandbox takes the lead in trader numbers, boasting a substantial 1,100 traders and 252 UAW in July alone. Notably, The Sandbox team unveiled innovative features on July 19th, enabling users to craft personalized gamified experiences. This marks a pivotal step toward intensifying decentralization within The Sandbox, emphasizing user-generated content's integral role.
Decline's Implications and Pioneering Shifts
The downward trajectory has prompted some metaverse projects to close shop. This aligns with the cyclical nature of bear-market cycles, where only the most robust projects endure.
A prime example is Neopets, whose ambitious Neopets Metaverse venture recently met its end. Initially conceived as a web3-integrated game, the project now redirects its focus to its foundational web2 blueprint. Uncertainty surrounds Neopets' strategic direction, particularly concerning their NFT and blockchain aspirations.
Paving the Path Forward: Despite Challenges, Faith Persists
Intriguing patterns have surfaced, leading us to ponder the metaverse's trajectory. At DappRadar, our conviction in the metaverse's potential remains steadfast. The subsequent section unravels an insightful investment perspective that reaffirms our optimism for this domain.
Fueling Future Possibilities: $297M Web3 Gaming Investments
June 2023 witnessed web3 gaming investments plummet to an annual low of $68 million, attributed to market dynamics and adversities faced by flagship Web3 gaming initiatives. July, however, marked a robust rebound, recording $297 million in investments. Infrastructure projects took the lion's share at $187 million, comprising a substantial 63% of the funding. The combined investments in games and metaverse ventures reached $110 million, encompassing the remaining 37%.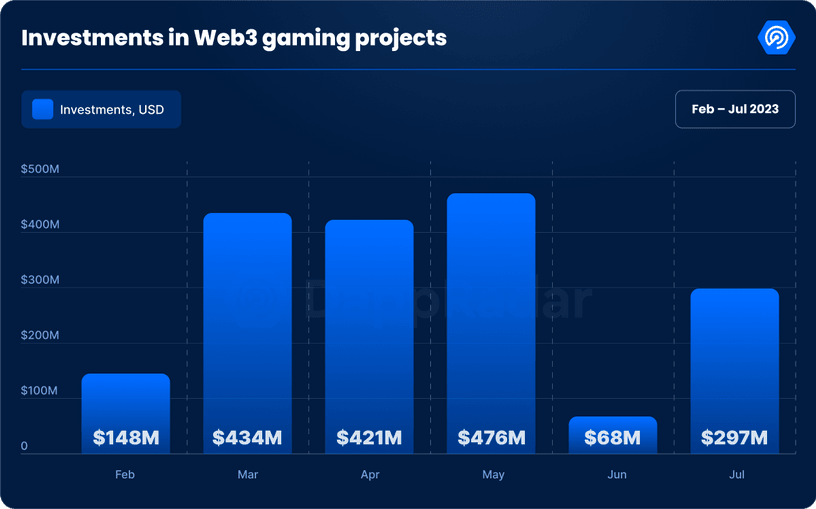 Pioneering Alliances and Noteworthy Investments
Notable investments include Animoca Brands' $30 million investment in hi, the creator of the world's first NFT avatar-customized debit card, and Inworld AI securing a remarkable $50 million from Lightspeed Venture Partners. Additionally, Valhalla Ventures' $66 million VC fund targeting deeptech and gaming startups, alongside Futureverse's innovative blend of AI and metaverse technology clinching $54 million, capture industry attention.
Embracing a Shifting Landscape
This influx of investment underscores unwavering faith in the metaverse and virtual worlds, even amid industry downtrends.
Google's Web3 Welcome: A New Playbook Unveiled
In a groundbreaking move, Google is poised to welcome web3 gaming into its Play Store later this year. While exciting, this announcement comes with stipulations, emphasizing transparency regarding NFT incorporation and caution against certain models. This shift rekindles interest among mobile gaming studios in NFT exploration, infusing fresh enthusiasm and confidence into the ecosystem.
Building Upon Investments and Partnerships
Casting our gaze back to the investment and partnership buzz of the past year, 2023 stands as the year where those seeds are yielding tangible results. Both Apple and Google's evolving stances remain under scrutiny, as the industry awaits their next steps to address core challenges for web3 developers.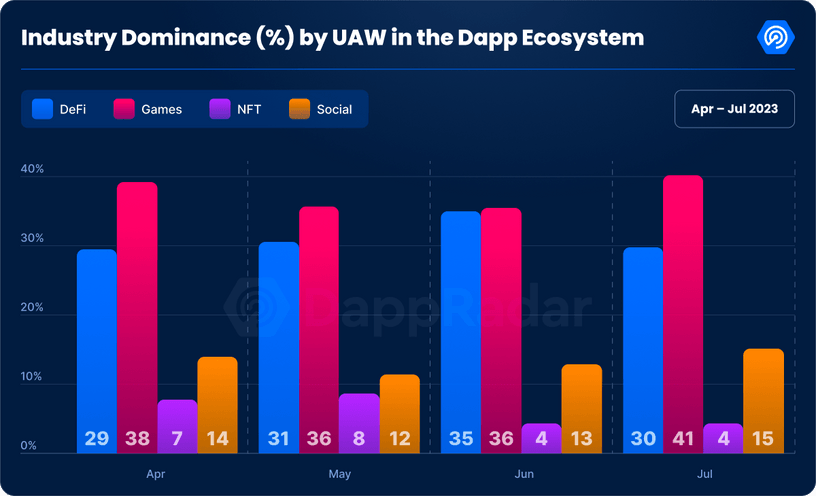 Envisioning the Future: The Unfolding Narrative
In conclusion, July's exploration of blockchain gaming and the metaverse exposes signs of sustained momentum. Amidst cyclical fluctuations and challenges, significant investments affirm prevailing optimism. The surge, combined with Google's recognition of Web3 gaming, highlights blockchain's integration into mainstream platforms.
With giants like CyberKongz embracing platforms like Ronin, blockchain's influence in gaming proves more than a passing trend; it's a foundational shift.
As we march forward, watch for investments' impact on product innovation, user engagement, and market growth. Undeniably, the convergence of gaming, blockchain, and the metaverse not only shapes the future but actively constructs it.